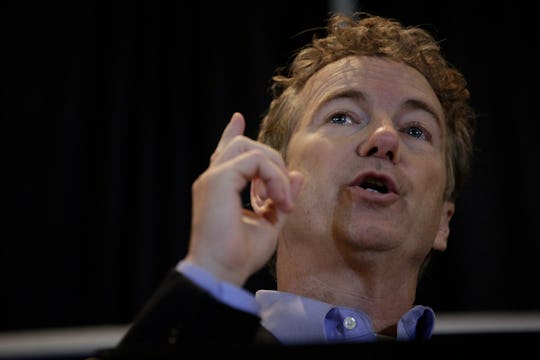 Joshua Lott/Getty Images News/Getty Images
What Does Rand Paul Think Of Trump's Cabinet Picks? He's Concerned
President-elect Donald Trump values and rewards loyalty, as evidenced by the fact that he's begun choosing longtime, unwavering supporters to fill out his administration in crucial roles like attorney general and national security adviser. Nearly all of these selections are controversial, and there's one Republican senator who's turned decidedly un-loyal in emerging as the first in the party to criticize some of the incendiary figures who may dominate the White House come January (even if he did support Trump in the past). Kentucky Sen. Rand Paul is skeptical of some of Trump's Cabinet picks and potential nominees, and he's committed to voicing those concerns in an attempt to guide the real estate mogul's presidency in a direction that that's palatable for him — as well as others alarmed at the appointment of some men of questionable backgrounds and ideologies.
The onetime presidential contender's chief concern is with Rep. Mike Pompeo, whom Trump nominated Friday for the role of C.I.A. director, which requires Senate approval. According to BuzzFeed News, the Kansas congressman has long advocated for an expansion of surveillance capabilities of the National Security Agency (you remember this as a flashpoint from the Edward Snowden debacle), and Paul is not about that.
"I'm a fierce advocate of privacy," he told John Dickerson on CBS's Face the Nation Sunday. "I'll continue to be an equal opportunity defender of the Bill of Rights, whether it's a Republican or a Democrat president."
Regardless of Paul's disapproval, Trump has already nominated Pompeo to the post. But there are two likely contenders who have not yet received the nod that Paul would vehemently oppose when it comes time for the Senate to vote on the appointments: Former New York Mayor Rudy Giuliani and former United States ambassador to the United Nations under George W. Bush, Michael Bolton, both of whom are being considered for the role of secretary of state along with former Massachusetts Gov. Mitt Romney, according to The New York Times. Trump may also tap Giuliani for Homeland Security as well.
"I want people that run the State Department who agree with Donald Trump," Paul said to Dickerson during the same interview Sunday, later adding that he believes that Romney is "is a reasonable, even-keel" and a better pick for the job, although he too supported the Iraq at first (just like Trump did, no matter how much he denies it). "And so I'm trying to help. I'm trying to be helpful here. And the problem — with both Bolton and Giuliani is they're unrepentant in their support for the Iraq war. They haven't learned any of the lessons."
But despite Paul's vocal denunciation of some potential Cabinet member, he's been oddly silent about and even supportive of other Trump appointees with egregious records. For example, after Trump tapped Steve Bannon, former head of troubled online platform Breitbart, as his chief strategist, and the decision subsequently set off waves of outrage, Paul told CNN's Wolf Blitzer that the American people should "give the guy a chance."
Similarly, he characterized Alabama Sen. Jeff Sessions as "the less aggressive choice" for a Defense Department role than Bolton or Giuliani on Tuesday, according to The Washington Post. (Sessions' record of black voter intimidation under the Reagan administration; the fact that he was ultimately rejected for a federal judgeship because of comments like saying the Ku Klux Klan was "OK" when he learned they smoked marijuana; and referring to the NAACP as "un-American" and "communist-inspired," according to Fortune, has since come back to haunt him, though Sessions has denied saying these things.)
Paul has not spoken out against Sessions, which is discouraging, as is his support for Bannon. His speaking up on these subjects at all, though, is a much-needed reminder that that other branches of government have some say in the direction of this country, because a system of checks and balances is one of the few reasons for cautious hope post-election.