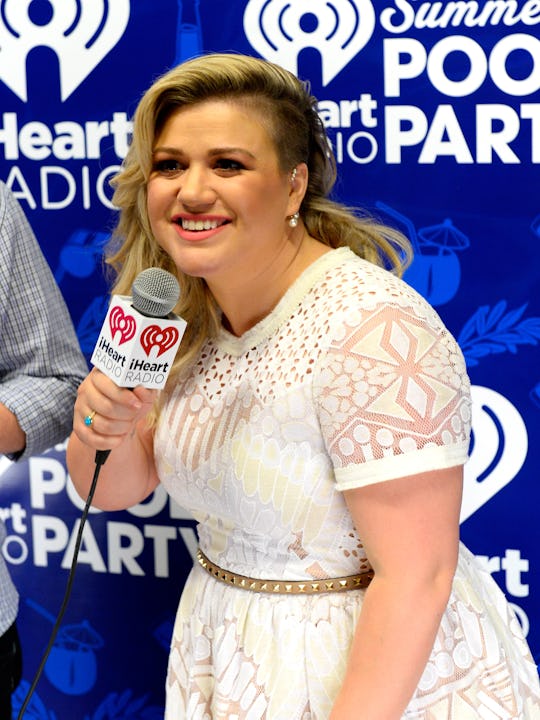 Bryan Steffy/Getty Images Entertainment/Getty Images
What Does River Rose Think Of Her New Baby Brother? Her Reaction Will Likely Be Adorable
On Tuesday, Kelly Clarkson and husband Brandon Blackstock welcomed the newest member to their family, Remington Alexander. Clarkson announced the news on Twitter earlier today, and, according to the tweet, Remington is healthy and the whole family "couldn't be happier" or "more in love." But what does River Rose think of her brother? How does she feel about being a big sister?
Unfortunately, there is no word as to how River is handling "siblinghood," at least not yet, but to be honest, it may be some time before we know her "reaction." Why? Because River Rose is just 22-months-old, and most 22-month-olds do not have the capacity to verbally express their joy, excitement, sadness or contempt. (Sorry, but it happens.) However, as mom, dad, River Rose, and Remington settle in, she will undoubtedly express herself through her actions.
The good news is River Rose has an idea how this sister thing goes: while Remington is Clarkson's second child, he Blackstock's fourth. (He has one teen and one pre-teen from a previous marriage.)
Clarkson announced her second pregnancy last August, after breaking down in tears during a performance of "Piece by Piece" — the emotional song she wrote about her father and husband — at the Staples Center in Los Angeles, California.
I was not planning on announcing this but I'm totally pregnant!
And in October, the former American Idol shared that baby would be a baby boy –via an adorable Instagram announcement: "In other news, River's gonna have a little baby brother :) #itsaboy We're so excited!"
When Clarkson was asked if she will have more children, during a recent interview with Australia's KIIS FM, Clarkson was quick to respond:
Oh, no, we are done. Oh good Lord, yes, I can't be pregnant again. This will be our number four total, so we're good.
She added:
Honestly, the first one [pregnancy] was really rough, and I was like, 'Oh, it can't happen again,' and no it happened, like, way worse this time...it's just, like, my body was not made to be pregnant...I wish I was like the girl that...[finds pregnancy] beautiful, but it's not [not for me].
The good news: No matter how hard Clarkson's pregnancy was, it is now over, and now mother, father, and River Rose can focus their attention on shifting from a family of three to a family of four.