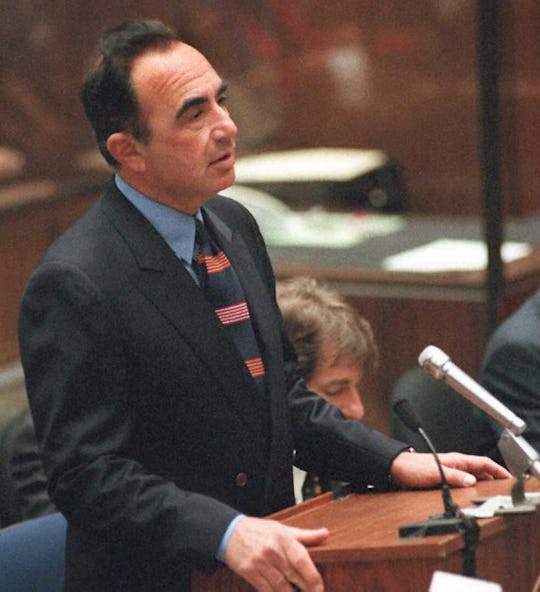 AFP/Getty Images
What Does Robert Shapiro Think About 'People v. O.J. Simpson'? He Doesn't Discuss The Case
Robert Shapiro is once again back in the spotlight with the release of The People v. O.J. Simpson: American Crime Story. The series isn't a documentary — it's a dramatization, and Shapiro is played by John Travolta, who has gotten mixed reviews for his over-the-top portrayal. So what does Robert Shapiro think about The People v. O.J. Simpson? He's been noticeably quiet.
Shapiro told Fox a few years ago that the Simpson case was "just something I don't like to comment about." And even with the success of The People v. O.J. Simpson, he's stayed mum.
Shapiro has made a career as a high-profile Hollywood attorney, representing the likes of Lindsay Lohan and Rob Kardashian. Even Travolta hasn't talked to Shapiro about the case or what he thinks of the show, generally. Travolta told People that when he first signed on to play Shapiro, he received a letter from Shapiro saying Shapiro was "happy" to have Travolta playing him. That's really it.
Perhaps Shapiro, who is now 73 years old, is more interested in letting everyone else react to the FX blockbuster. He currently still practices law and is a senior partner at the L.A. firm Glaser, Weil, Fink, Jacobs, Howard, Avchen & Shapiro, L.L.P. In addition, Shapiro founded the legal site, LegalZoom.com, which lets people create their own legal documents.
Maybe one day Shapiro will open up about his experience as Simpson's attorney and whether he thinks his portrayal on ACS is accurate. Or maybe he'll at least tell people whether he even watched the show. He's a compelling figure who, in a short moment, became one of the most famous attorneys in American history along with his colleagues Johnny Cochran, Robert Kardashian, and F. Lee Bailey who all served as the high-powered, high-dollar "dream team" defense counsel for Simpson and eventually got him acquitted of the murders of his former wife, Nicole Brown Simpson and her friend, Ronald Goldman.