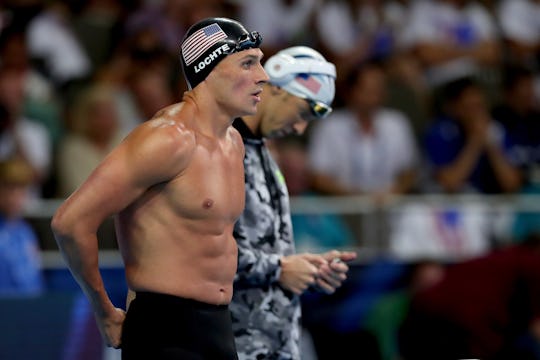 Tom Pennington/Getty Images Sport/Getty Images
What Does Ryan Lochte's Tattoo Mean? He's A Gator
I know what you're thinking.When you see Ryan Lochte, the famous U.S. Olympic swimmer, without his shirt on, wearing his teeny-tiny swim trunks, you're thinking one thing.Hey, what's with the ink, Lochte? Yes, that'sright. When faced with his Adonis-like physique, most people are probably wondering what Ryan Lochte's tattoo means, right? Right.
Some swimming fans might remember Ryan Lochte as "that other"Olympic swimmer, alongside Michael Phelps. Both swimmers have impressive Olympic turnouts; Phelps has won a total of 22 Olympic medals while Lochte has won 11 (five Gold, three Silver, and three Bronze). Lochte has gone on record to say that he admires Phelps and appreciates the edge their competitive natures have added to his swimming performance. "Sometimes I don't think I would be the swimmer I am today without Michael." They share a drive to succeed, a patriotic enthusiasm to represent their country, super amazing shoulders (and pecs and abs and legs)... and tattoos. Both swimmers will be travelling to the Summer Olympic Games in Rio de Janeiro this year sporting tattoos. While they both sport the Olympic rings for tattoos (Lochte's is on display on the inside of his magnificent right bicep), Lochte actually has another tattoo on his shoulder with a significant meaning.
So what is the meaning behind the tattoo of an alligator on Lochte's right shoulder? Well, in the interest of research I have spent an inordinate amount of time staring at pictures of Lochte shirtless and here is what I've learned: he's very beautiful. Moving on.
This very beautiful man moved to Daytona Beach, Florida with his family when he was a little boy. And as we all know, gators are plentiful there. But Lochte is also a graduate of the University of Florida, whose mascot is (naturally) a Gator. When Lochte was a Florida Gator he was a two-time NCAA Swimmer of the Year, 24-time NCAA All-American, and seven-time NCAA Champion. Lochte graduated from the University of Florida in 2007 with a degree in business management and has kept close ties to the school ever since. The gator tattoo could have an extra hidden meaning; alligators are known for being strong swimmers and he is a strong swimmer. Conspiracy theory? I think not.
As for the writing above his tattoo, it is Greek for the word "first", which I think might mean he never wants to come in second. So just in case he ever feels like giving up he can just look at his shoulder tattoo and think, Oh yeah, I really want to come in first. Thanks for the reminder, little gator!
Here's hoping his gator tattoo and his Olympic rings bring him luck and good fortune at the Olympic games in August.