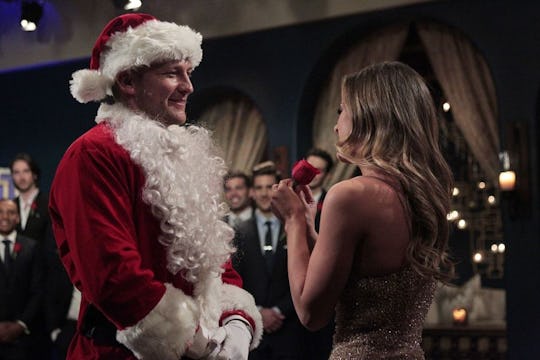 Rick Rowell/ABC
What Does Santa Do On 'The Bachelorette'? Nick B. Actually Has A Pretty Impressive Job
One of the highest profile limo gimmicks on The Bachelorette's Season 12 premiere was Nick B.'s grand entrance in a Santa suit, dutifully toting along a present for JoJo. (He introduced himself as Saint Nick... get it?) Nick's title card did not help illuminate any of his actual traits, since it, too, dubbed him "Saint Nick," Occupation: "Father Christmas," hometown "The North Pole." (We did helpfully learn that he was 33, however.) So what does Santa (Nick B.) do on The Bachelorette in real life?
Most of the other contestants were taken by surprise when JoJo actually decided to keep the dude who showed up in a Santa suit (and wound up sweating unattractively in the balmy Los Angeles night thanks to it) during the first rose ceremony — especially the scorned guys rocking sharp suits. Bachelor Nation seemed plenty creeped out by his unsubtle move of pulling her onto Santa's lap, too, but, for her part, JoJo said the moment "should have been weird, but wasn't." After getting a peek at his face under the beard and hat, she admitted that Nick was "fun" and that she "really enjoyed" him.
Taking a peek at Nick's actual employment history, it's not surprising that he felt confident enough to sport a Santa suit for an entire cocktail party. Nick B., who is actually from Fort Lauderdale, and not the North Pole, has worked steadily as an engineer in the shipbuilding industry for the past eight years. Before that, he also worked as a longshoreman and was a summer engineering intern at NASA, which presents an intriguing mix of down-to-earth ruggedness and nerdy ambitions.
In his spare time, Nick enjoys life as an avid duck-hunter, and is also pictured with approximately one hundred different babies on Instagram, so he definitely seems to adore kids. (Or at the very least, he loves taking pictures with them, which might as well be the same thing for a Bachelorette contestant.)
Gifting JoJo a present also seems to have some significance to Nick's romantic history. He told In Touch that he's never received a romantic gift from a partner, ever. Hopefully, he turns out to be worthy of JoJo's generosity.