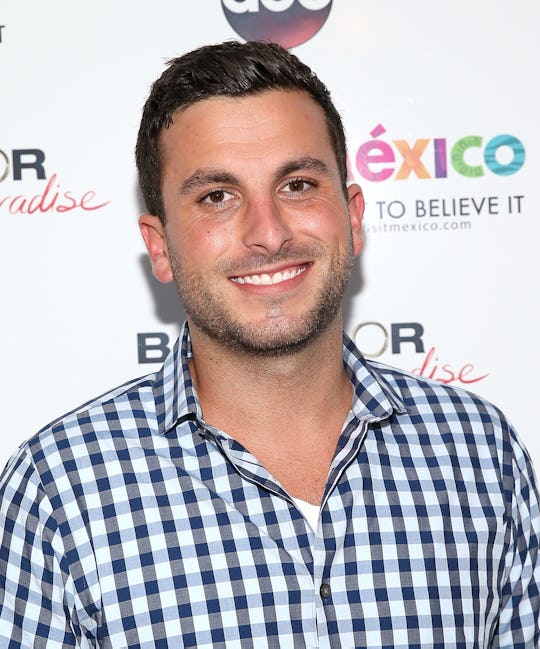 Jesse Grant/Getty Images Entertainment/Getty Images
'BiP' Alum Tanner Tolbert's Day Job Is NOT What You Think
The love and family brand-new parents Jade Roper and Tanner Tolbert's now have was built and flourished on the small screen. The two met in 2015 when their paths collided on ABC's reality sensation Bachelor in Paradise; they even got engaged on the show not long afterwards. And then they opted to monetize their January 2016 wedding, agreeing to broadcast the event on Valentine's Day that year. Now, the two have welcomed their first child, making it uncertain whether they'll continue on the reality circuit or trade in ratings for minivans. And, actually, what Tanner Tolbert does for a living indicates that they would actually be quite comfortable either way.
Even though Roper and Tolbert appeared on The Bachelor and The Bachelorette, respectively, before ultimately finding love with each other on the shows' spinoff sensation, they're not exclusively reality TV stars. In fact, the new father to Emerson Avery Tolbert has a job that her future classmates' parents will probably have a much easier time relating to than his reality TV background.
According to his LinkedIn page, Tolbert has been a general sales manager at Legends Toyota in Kansas City, Missouri, since January 2016. In fact, he was promoted to the position after he took time off work to film both The Bachelorette and Bachelor in Paradise. He must be a seriously hardworking and multi-talented guy.
Anyone who's familiar with Tolbert's television work or who follows him on social media may be surprised that he's in a profession as ordinary as automative sales. After all, he and Roper — who formerly worked as a Playboy model — have cracked the code to generating quite the fortune on social media sites like Instagram and Twitter. Right after their wedding aired in February last year, Us Weekly reported that the couple was on track to earn a combined $1 million on sponsored posts alone that year by elevating brands like Hallmark and and the meal kit service HelloFresh.
The unnamed source from the Bachelor franchise who shared that information with Us Weekly made it clear that Tolbert was pretty enthusiastic about the chance to partner with brands to rake in some serious cash. The source told Us Weekly:
Tanner wants to take every opportunity thrown his way. Though Jade is a little apprehensive about losing followers. She wants to be organic in her social media.
Of course, it's quite likely that Roper and Tolbert are so successful with their #ads because they're always sure to intersperse endorsements with lots and lots of fun and adorable shots documenting their life together. And the snaps improved significantly since Emerson, who goes by "Emmy," was born four weeks early on Aug. 17. So now, the reality star/Toyota sales manager/social media expert extraordinaire can follow a post advertising the Premama Lactation Drink Mix Roper favors with a hilarious showcase of the inexpert way this dad styles his newborn daughter's hair.
And all that's a fun (and lucrative!) pastime for Tolbert, but it seems as though he plans on hanging onto his day job, as he retained it all through his reality TV craze. According to his LinkedIn page, Tolbert launched his professional career as a sales consultant/finance manager for Steve Tolbert Suzuki after graduating from the University of Kansas in 2010. He went on to work as an Internet sales manager for McCarthy Auto Group before joining the team at Legends Honda as a finance manager in 2013. A few years later, he landed fame in the reality TV circuit, a wife, and a promotion.
Now that he's had a daughter, it stands to reason that Tolbert will go with the career that will allow him to most effectively provide for her and to spend as much time as possible with his bundle of joy.
Watch Romper's new video series, Romper's Doula Diaries:
Check out the entire Romper's Doula Diaries series and other videos on Facebook and the Bustle app across Apple TV, Roku, and Amazon Fire TV.