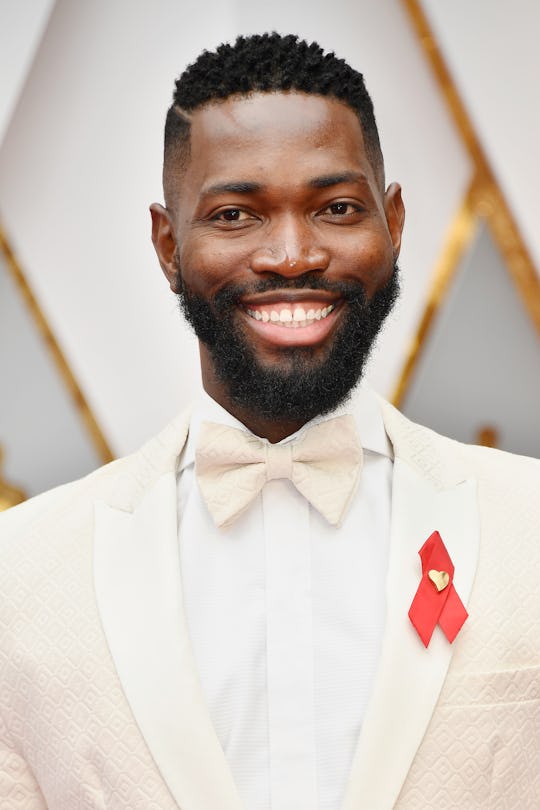 Frazer Harrison/Getty Images Entertainment/Getty Images
Tarell Alvin McCraney's Red Ribbon Is Important
At the 2017 Oscars there have been pins and blue ribbons worn to honor different causes, but that's really nothing new. Celebrities have long used the prestigious occasion to support what they believe in and raise awareness. Still, more than a few Academy Award viewers found themselves asking the necessary question, "What does Tarell Alvin McCraney's red ribbon mean?" It usually has the meaning of supporting AIDS awareness, but was that McCraney's intention? It has officially been 25 years since Elizabeth Taylor wore the same ribbon to the Oscars to support AIDS awareness at a time when not many celebrities were yet doing it.
Shortly before she wore the ribbon, Taylor founded the Elizabeth Taylor AIDS Foundation to fight against the disease and help those affected with it. When McCraney wore the same red ribbon to the 2017 Oscars, he had the same intention. According to GQ magazine, McCraney's own mother died from "AIDS -related complications" at the beginning of his career and the Moonlight playwright clearly felt it was important to don the red ribbon in support.
At the 2017 Oscars, making a statement by wearing pins and ribbons was, not surprisingly, a big thing. Lin-Manuel Miranda wore a blue ribbon to support the ACLU, and several other stars wore pins with the "&" symbol to show support and solidarity to GLAAD.
McCraney wrote the play In Moonlight Black Boys Look Blue which inspired the movie Moonlight and the story is almost a direct mirror of his own life growing up in Miami with a drug-addicted mother and a drug dealer for a father figure in his neighborhood. Although Moonlight isn't a flat out autobiographical film version of his life, McCraney told the L.A. Times that he found it hard to watch the first couple of times. "The first time I saw it, I went through a pretty bad depression," he said. "The second time, I burst into tears midway through. It's hard. It's rough."
McCraney's real life mother died with AIDS before his career really took off, but on a night when he was beginning honored at the Oscars for his writing accomplishments for the semi-autobiographical film, it was obviously the perfect time for McCraney to wear a red ribbon. McCraney won an Oscar for Best Adapted Screenplay and later on in the night, Moonlight won Best Picture, so since his mother couldn't be there, McCraney wearing a red ribbon in support of AIDS awareness was obviously the best way to pay tribute.