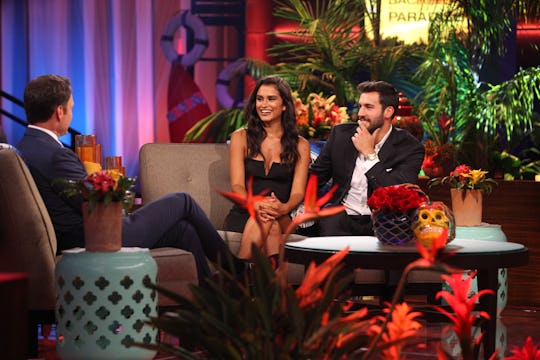 Paul Hebert/ABC
Does Taylor's Family Approve Of Her 'Paradise' Relationship?
Almost as soon as they landed in Mexico, Taylor and Derek were attached at the hip. Aside from one little fight they had, it looks like they're totally going to live happily ever after, especially since there are various media reports that state the two of them are engaged already. Although the couple hasn't confirmed the news yet, is it too early to start thinking about where the wedding will be or what Taylor's family thinks of Derek and this whole ordeal?
No, speculation is the best part of the Bachelor franchise and rumor has it that during the taping of the the Bachelor In Paradise after show, Derek proposed to the mental health counselor. So there is a happy ending after all. When it comes to their lives off-screen, both of them are sort of private on social media and mainly post pictures of themselves out with the Bachelor crew. However, just this week, Taylor posted a sweet message to her dad, writing:
Our family is very furry, cozy and small, and full of love and support. I wouldn't have it any other way. Thank you for being the most amazing father, and always supporting us (even when we're being totally insane). Mom could not have done a better job at finding a life partner to raise me and mold me into the person I am today.
She's obviously super close with her family, so it's likely that they support her and her new relationship.
Again, nothing has been confirmed yet by the couple, though it looks like it's very likely the proposal was successful. Just a day after taping the show, the couple was seen out at a Los Angeles club, partying with the rest of their castmates. Taylor posted a selfie with her other "FAMILY," as she called it.
Raven also posted an Instagram story of the night out that showed Derek, DeMario, and Adam with the rest of the crew.
Derek said after one of their dates in Mexico that he was falling hard for Taylor. "Every time I'm with Taylor I just feel really happy," he said. "I keep smiling and I'm really giggly and like a school boy again who likes a girl." The feelings were totally reciprocated. Taylor said in a one-on-one:
If things keep going with Derek the way that they've been going, there's a possibility for love. Derek is boyfriend material and I'm ready to see where things go with him moving forward.
According to reports, the engagement ring is a Neil Lane creation (of course), made up of a three-carat diamond in a platinum setting, worth around $60,000. She wasn't sporting it at the club the other night, but that's likely because she didn't want to spoil the big reveal for the finale. Though, honestly, I think the cat is already out of the bag.
Check out Romper's new video series, Romper's Doula Diaries: