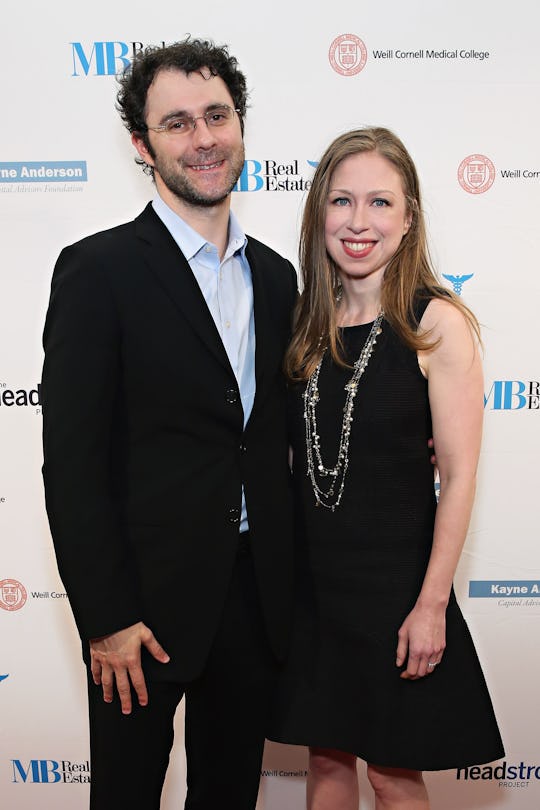 Cindy Ord/Getty Images Entertainment/Getty Images
What Does The Name Aidan Mean? Chelsea Clinton Picked A Unique Name For Her Son
It was a very special Father's Day this year for the Clinton family, as the former first daughter gave birth to her second child, a boy, on Saturday. On Twitter, Clinton revealed the news of her son's birth, as well as his name: Aidan Clinton Mezvinsky. What does the name Aidan mean? This sweet baby boy's name has its roots in Celtic culture, with origins in both Ireland and Scotland. Clinton herself comes from an English and Scottish background, as her father's family tree has roots that extend as far back as colonial America.
Aidan is Clinton and husband Marc Mezvinsky's second child; their daughter Charlotte was born in September 2014. Clinton announced her second pregnancy via Twitter as well, with a photo of Charlotte reading a book titled, Big Sisters are the Best, back in December.
Charlotte and her new little brother have much in common already: Just like with Charlotte, Aidan was born at the Lenox Hill Hospital in Manhattan. They also share the same middle and last names: Clinton and Mezvinsky, respectively. There's also a sense of mystery around each of their names, too: neither Clinton nor Mezvinsky have revealed exactly why they chose the first name they did for each child.
The name Aidan means "fiery one," and has roots in the name of the Irish god of the sun and fire, Aodh. Another interesting thing to note about the Celtic name Aidan is that it sounds remarkably similar to Adin, a Hebrew name meaning "handsome." What's so special about a Hebrew-sounding name? Clinton and Mezvinsky had an interfaith wedding in 2010, officiated by both a rabbi and Methodist minister; the couple stood under a traditional Jewish wedding canopy, called a huppah, and even signed a traditional Jewish wedding contract known as the ketubah.
Regardless of its Celtic or Hebrew-sounding origins, Clinton and Mezvinsky have chosen a popular boy's name, with an alternate and thus less popular spelling. In 2015, Aiden (with an "e") was the 13th most popular boy's name in the United States, according to the Social Security Administration. At its peak, Aiden was the ninth most popular boy's name in 2010 and again in 2011. But the similar-sounding but differently-spelled Aidan (with an "a") was the 185th most popular boy's name in 2015. Aidan just barely cracked the top 40 baby names at number 39 in 2003.
Clinton's parents, Hillary and Bill, have been over the moon about welcoming their second grandchild. The former Secretary of State and presumptive Democratic nominee Hillary tweeted about her joy and gratitude for little Aidan, while former president Bill got an extra special treat for his Father's Day. Clinton isn't the only presidential hopeful welcoming a grandchild on the campaign trail: In March, presumptive Republican nominee Donald Trump welcomed his eighth grandchild, daughter Ivanka Trump's third child.