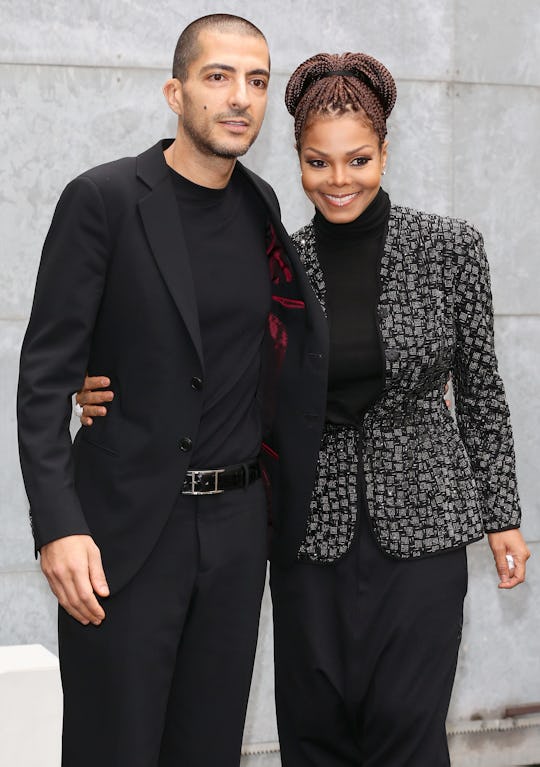 Vittorio Zunino Celotto/Getty Images Entertainment/Getty Images
Janet Jackson Chose A Powerful Name For Her Son
Legendary singer Janet Jackson just welcomed her first baby at 50-years-old on Tuesday. She and husband Wissam Al Mana, a Qatari businessman, shared the exciting news of the birth of their baby boy, Eissa Al Mana, on Tuesday and are reportedly just "thrilled." What does the name Eissa mean? According to the website BabyNamesPedia, Eissa is a name of Hebrew and Arabic origin that means "Yahweh (God) is salvation."
While there was speculation that Jackson might choose to honor her late brother, Michael Jackson, by naming her baby after him, she and husband Al Mana instead chose to bless their little one with a unique name imbued with strength and spirituality. The name Eissa is so unique, in fact, that only six boys born in the United States last year were given that name, according to Nameberry.com. The intensely private singer and her husband were so excited about the birth of their own little "salvation" that she actually shared the news of his birth in a rare statement to People magazine, through her representative:
Janet Jackson and husband Wissam Al Mana are thrilled to welcome their new son Eissa Al Mana into the world. Janet had a stress-free healthy delivery and is resting comfortably.
Jackson and Al Mana have been married since 2012, although they didn't make their marriage public until 2013. The couple have been incredibly protective of their privacy since the beginning, and it's a real testament to their joy that they have shared as much as they have about the birth of their son. Back in April when Jackson canceled her "Unbreakable" world tour, she took to social media to share the message that she and her husband were planning a family.
Since then, Jackson confirmed her pregnancy to People in October, saying that she and her husband "thanked God for their blessing." And clearly, little Eissa has truly been a blessing for his parents. Jackson and Al Mana chose a name imbued with deep connection; according to SheKnows baby names, children named Eissa:
are excellent at analyzing, understanding, and learning. They tend to be mystics, philosophers, scholars, and teachers. Because they live so much in the mind, they tend to be quiet and introspective, and are usually introverts. When presented with issues, they will see the larger picture. Their solitary thoughtfulness and analysis of people and world events may make them seem aloof, and sometimes even melancholy.
Whether Eissa Al Mana becomes a scholar, a teacher, or whatever else he might choose to be, he will most certainly be loved.