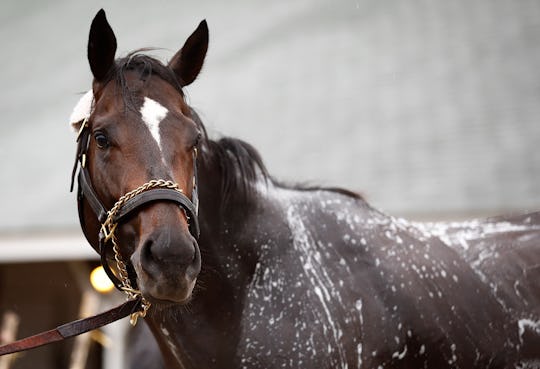 Gregory Shamus/Getty Images Sport/Getty Images
What Does The Name McCraken Mean?
The Kentucky Derby is synonymous with a lot of things — giant hats, mint juleps, and horses with really creative names. This year, the list of horses competing in the Kentucky Derby have really outdone themselves, especially one who's favored to win — McCraken. But what does the name McCraken mean?
I feel a little like Buddy the Elf — McCraken is just a really fun name to say. But his name could be more than just something people recognize for being unique — it could be another name for the winner of the Kentucky Derby. According to The New York Times, McCraken is favored to win and his odds are listed as five to one. Apparently, McCraken has won four out of five races and the one he took third place in, the Blue Grass Stakes, happened after he was sidelined for an injury. Experts are split on if he'll take the lead or not, but his name is definitely buzzing around Kentucky Derby reports.
So what about that name? He comes from a line of creatively named horses. Horse Racing Action noted that McCraken's siblings are named Awesome Again, Baby Zip, Seeking the Gold, and Madame Pandit. Honestly, seeing all of those names makes McCraken sound like the Joe of the family. And it turns out, his name was a pretty simple one to come up with. According to the website Fansided, McCraken was named for a small town in Kansas where his owner, Janis Whitham, was raised. Apparently, however, there was a snafu in the registration process — McCracken is the actual name of the city, but the horse McCraken is missing the third C in his name.
I mean, give yourself a creative name, expect people to misspell it, right? Also, I know — you were really hoping the horse was named for Bill Murray's character in Kingpin. Sorry.
Apparently naming horses takes a little bit of work anyway. NPR noted that there a more than a few rules when it comes to naming racehorses. Not only does the name have to be submitted to The Jockey Club, but it must adhere to a few guidelines such as not being longer than 18 characters in length (including spaces) and not being a name completely made up of numbers (numbers over 30 have to be spelled out, too). You also can't name a horse something that ends in a horse-related term, like stallion or filly, and you can't use a racetrack to inspire your horse's name. (So no Blue Grass Baby.)
With all of those rules in place, no wonder owners turn to their hometowns for inspiration. Regardless of how McCraken does in the race, his name is a sweet ode to a small town, even if it's spelled wrong. And if there's one thing I know about small towns and competitions, it's that people love an underdog. (Or maybe that's just in 90s competition cheerleading and ice hockey movies.)