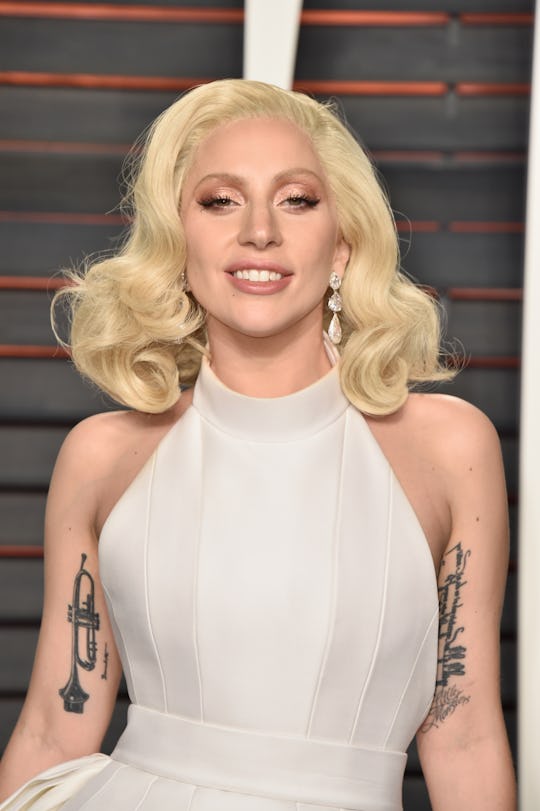 Pascal Le Segretain/Getty Images Entertainment/Getty Images
What Does The Title Of Lady Gaga's New Album Mean? 'Joanne' Holds Special Significance
While not much had been known about Lady Gaga's long-awaited new album, the pop star legend announced on Thursday that it will be released on Oct. 21 via Streamline/ Interscope, simultaneously revealing the inspiration behind the album's name — Joanne. So, what does the title of Lady Gaga's new album actually mean? During an interview with Zane Lowe of Beats 1 on Apple Music, Gaga explained that she named her fifth album after her late aunt, Joanne Germanotta, who tragically died from lupus at the age of 19.
"As I returned to my home life and spending time with my friends and family and getting out of the mainstream limelight for a minute, what I realized is, it's the experiences of our family and our challenges that make us who we are," Gaga told Lowe on Monday. "It's everything about Joanne ... it's all the toughness of the pain of losing her that made us all strong and made us who we are. She is the woman of my past who is becoming and helping me bring more of my honest woman self into the future."
The name of Gaga's latest album is not the only tribute to her late aunt, it also contains album art of Joanne's handwriting and images of belongings she owned throughout her life.
The singer's middle name is also Joanne — her full birth name is Stefani Joanne Angelina Germanotta — and her parent's also own an Italian restaurant in New York named Joanne Trattoria.
"The decision ultimately to name the album Joanne was, ya know, in tribute to my father's sister who died when she was 19," Gaga explained in the same interview with Lowe. "He was younger than her and she was very sick with lupus and the death of her in his family and his life, it really left a scar and a wound that never healed." (You can listen to the full interview here.)
Last week fans got taste of what Joanne has in store with the release of "Perfect Illusion," which featured producer Mark Ronson, who is responsible for the pop hit "Uptown Funk," and singer Kevin Parker from the psychedelic rock band Tame Impala, as well as the producer BloodPop, who's worked with Grimes and Justin Bieber.
Only a handful of tracks on Joanne have been confirmed so far, but Gaga called the album's title track "the true heart and soul of the record."
While fans have to wait until Oct. 21 for the full follow-up to Gaga's 2013 album ARTPOP, they can rest assured that the inspiration behind the upcoming record has likely sparked yet another Gaga masterpiece.