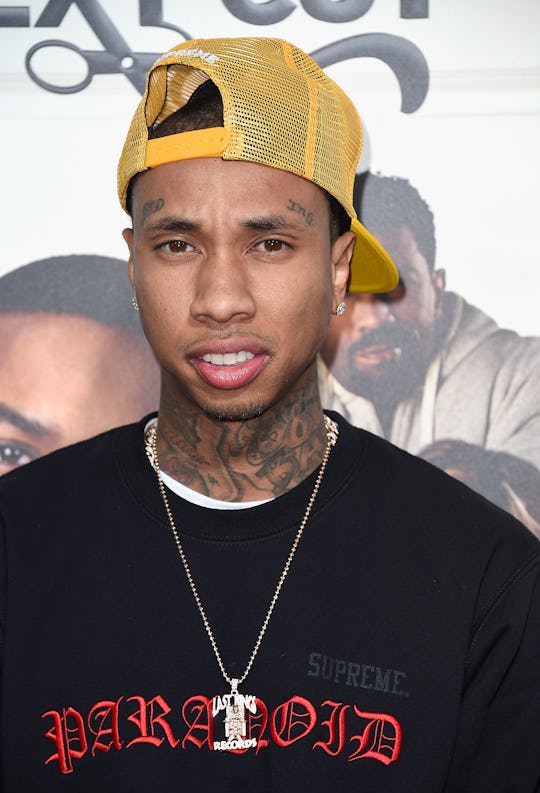 Frazer Harrison/Getty Images Entertainment/Getty Images
What Does Tyga Think Of Blac Chyna's Pregnancy? He's Sending Nothing But Good Vibes
If you've been following the Kardashian-Jenner-Chyna-Tyga story, then you know that Rob Kardashian and Blac Chyna are engaged and expecting. If you didn't know, well here's your chance to quickly get caught up. Exes Chyna and Tyga have one child together, their 3-year-old son, King Cairo. Tyga is dating Kylie Jenner, and Chyna is engaged to Jenner's brother, Kardashian. So given the former couple's many ties to each other, many are wondering what Tyga thinks of Chyna's pregnancy. He's seems to be sending good vibes to the expectant couple.
Chyna and Kardashian announced the exciting baby news on their Instagram accounts last Friday, by posting an emoji, or "Chymoji" depicting Chyna with a pregnant belly bump. Their Instagram-official announcement followed previous TMZ reports that Chyna was pregnant. And, in typical shocking, social-media-break-the-Internet fashion, fans of the show Keeping Up With The Kardashians, (and those who gleefully or reluctantly follow celebrity gossip) commented, shared, and expressed their shock, excitement, and varying opinions on the pregnancy news. And while the Internet and social media aren't always the best and most accurate depiction of what's really going on in people's lives, Tyga commented on Chyna's Instagram post saying, "Congratulations," followed by a celebratory emoji depicting party streamers. By social media reality, the former couple seems to be on good terms.
This wasn't the first time Tyga publicly commented on Chyna and Kardashian's relationship. Last month, Chyna and Kardashian announced their engagement in a similar fashion, posting emojis and photos on Instagram, but showcasing a new, shiny engagement ring instead.
Shortly after the announcement, Tyga noted on Twitter that he is happy for Chyna.
"Everybody deserves [to] be happy," the 26-year-old rapper wrote. "What [someone] does for their happiness is not my concern, as long as it's not interfering [with] my happiness."
It makes me happy to see the mother of my son happy. My only concern in this situation is my son. I want him in happy environments.
He's innocent in this... I want him to feel as much love as possible.
Publicly, the love seems to be going around the Kardashian-Jenner-Chyna-Tyga family. Last month, Jenner and Chyna made headlines when they took Snapchats of themselves together claiming to have "been best friends the whole time..." Of course this Snap caused a frenzy across social platforms, since many people speculated the two had tension given their unique connections. But the pair was determined to quash those speculations, and Chyna even referred to Jenner as her "lil sis." Regardless of rumors and speculations, another baby is on the way, and in any situation where kids are involved, good vibes and positivity are always best.