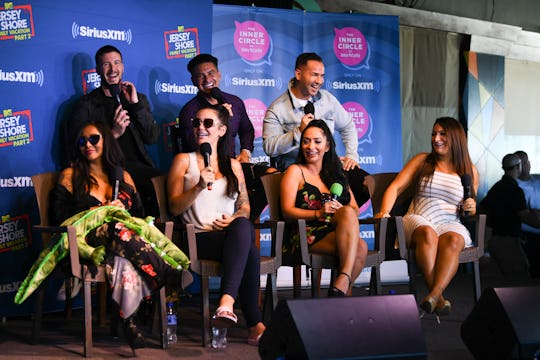 Dave Kotinsky/Getty Images Entertainment/Getty Images
Vinny & Angelina Have A Complicated Past On 'Jersey Shore Family Vacation'
Ever since Angelina Pivarnick left the Jersey Shore house for good during Season 2, she's been a running joke among the houseguests. They've referred to her as a "dirty little hamster" and "Staten Island dump" on separate occasions, but she and Vinny Guadagnino are said to have hooked up in the past. Now that they're all adults and she's still making random appearances, this time on the spin-off. So now, what does Vinny think of Angelina on Jersey Shore Family Vacation?
They have a history together and may have been more than friends at one point, but whatever friends with benefits or one time hookup arrangement they had doesn't mean that they're BFFs now. In fact, despite dancing with her in Las Vegas in a recent Family Vacation episode, Vinny has shown no sober signs of wanting to rekindle anything with her, including a deep friendship.
In an OK! Magazine interview ahead of the Family Vacation Season 2 premiere, both Angelina and Vinny denied hooking up during the season, but as viewers have seen, Vinny was down to sleep with her after he knocked a few back at one of the many Las Vegas clubs. It doesn't look like it led to anything, but Vinny is mostly silent about Angelina outside of the show. He did tweet during one episode, "Jenni how can you be friends with her?! She called you a Jersey whore." So he's probably not a fan.
Earlier in the season, Vinny also tweeted, "Pauly I'm not mad that you cheated with Angelina , just boil yourself before I touch you thanks." It could all be in jest because of the running joke of the roommates teasing Angelina, but they don't seem to be close despite their one hookup from back in the day.
To be clear, Vinny did say during the season that he and Angelina "are cool," but he probably won't be getting into a Family Vacation relationship with her anytime soon. "I'm definitely not trying to hate f*ck Angelina," he said on Family Vacation. "Maybe if like, the world was on the line. Like, some Armageddon sh*t. If they were like, 'Vin, your mission is to f*ck Angelina,' I would do it, for the goodness of humanity."
Angelina might have an on again/off again feud with Jenni "JWoww" Farley, but for the most part, the rest of the cast has included her in the new show. Since she left so early on in the original series, it's hard to consider her a core member of the cast, but she's tried hard to be one of them every time she's been on the show. Most of Vinny's comments about Angelina on Twitter are likely meant in jest. He hasn't said much about her outside of social media, but he also hasn't completely shunned her either, so that's something.
During a cast interview with Jenny McCarthy's Sirius XM Radio show, Vinny said that Angelina will "never" be fully accepted by the cast and let in on their group text chain. He added that Angelina is more like their seventh cousin and that she has to earn her spot with the family after being away for so long and burning so many bridges with other cast members. I think that's fair enough. It's hard to say what the future holds for these two non-love birds, but like it or not, Angelina is a part of the Jersey Shore franchise. And I definitely expect future appearances. Whether that means hooking up with Vinny or at least being promoted to fifth or sixth cousin remains to be seen.