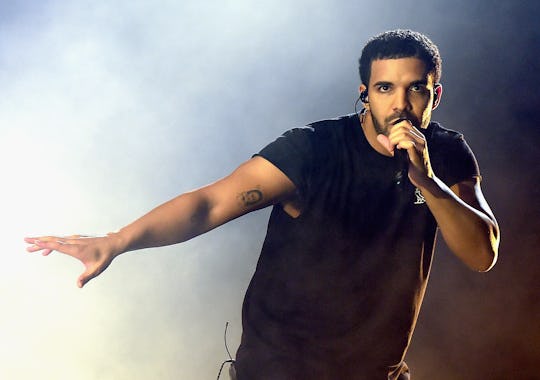 Kevin Winter/Getty Images Entertainment/Getty Images
What Does 'Weston Road Flows' Mean? It's A Throwback To His Past And His Journey To Fame
You're probably not alone if you've been listening to Drake's new album Views from the 6 on repeat since it was released last month. After weeks of teasing, the Canadian rapper released his fourth studio album with hot singles like "Hotline Bling" and "One Dance" that obviously stand out and easily pump you up, but what does Drake's throwback track "Weston Road Flows" mean? With the hazy vocals of hip hop legend Mary J. Blige in the background, "Weston Road Flows" tells a story of the complicated relationship Drake has with his hometown in Toronto since he's made it big and how he can stay true to his roots through it all.
Drake's entire fourth album is a shout out to his hometown in Canada and "Weston Road Flows" is a throwback to his past and is dedicated to the street he grew up on. The song really paints a nice picture of Drake's journey to fame. He makes several references to his hometown throughout the album and "Weston Road Flows" is especially autobiographical for his fans and gives an inside look at his personal relationships.
In just one part, he reminiscences about a lot of what life was like growing up in a "sketchy" area of Toronto and gives a shout out to his a childhood friend turned collaborator.
According to Toronto Life, "Weston Road Flows" is "a throwback to Aubrey's younger days, growing up on the sketchier west side of town. Drake gets nostalgic for his childhood friend Renny, an early producer."
Drake tells a story of what it was like for him to finally make it to the "Big Apple" and to keep grounded with his newfound fame:
Weston Road flows, my confidence level gettin' settled/Don't get hyped for the moment then start to backpedal/ Don't let your newfound fame fool you or cloud up your judgement
"Weston Road Flows" further tells of how after reaching a certain level of fame, he needed to reaffirm his true and genuine friendships:
The only thing I did to end up here was put the work in/ And did it with a purpose/ Used to have secret handshakes to confirm my friendships/ Nowadays they just shakin' my hand to hide the tension/ A lot of people just hit me up when my name is mentioned
Drake is only 29 and while this is not the first time he's mentioned the idea, Drake's lyrics hint that he may retire when he's 35:
Shout out to KD we relate we get the same attention/ It's rainin' money, Oklahoma City Thunder/ The most successful rapper 35 and under/ I'm assumin' everybody's 35 and under/ That's when I plan to retire, man it's already funded.
Canadian fans are super excited for this serious shout out to Toronto and fans everywhere else are flipping out on Twitter with the entire Views album. But "Weston Road Flows" has been getting a lot of buzz lately for the inside look Drake gives of his relationship with life on Weston Road and current world in the spotlight and how those relationships can (or can't) stand the test of time.