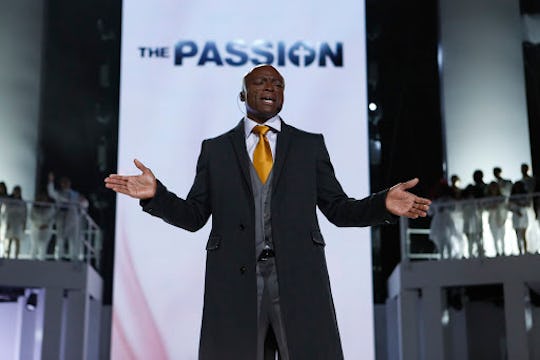 Michael Becker/Fox
What Else Has Seal Been In? 'The Passion' Is His Big Acting Debut
It's Palm Sunday, y'all, and Fox is celebrating the occasion with a live musical called The Passion. While live musicals have been experiencing an uptick in popularity over the past few months, I can't say I would have predicted we'd see one on Jesus Christ's last hours, and yet it's here, and it's fast approaching. Best of all, Seal is starring in it. Yes, the man who gave us songs for Space Jam and Batman is now taking on the 2,000-year-old Biblical story, and acting in it, as well. So what else has Seal been in?
Nothing so far, actually. The Passion will mark this British singer-songwriter's acting debut, and you better believe the public is excited.
Seal will be taking on the role of Pontius Pilate, according to Indiewire. In the Biblical story, Pilate was the government official who oversaw Christ's trial and ordered his crucifixion. Seal told NPR recently that he'll be singing two songs during the show: Tina Turner's "We Don't Need Another Hero," as well as "Mad World" by Tears for Fears.
"I've never really had a passion for it, you know," he told NPR recently, when speaking of his acting debut on The Passion. "I've only kind of been drawn to things that I have a passion for. You know, I love photography, for example, so you'll never see me without a camera. And obviously, music — I have a passion for that. But whilst I've admired and respected those that can do it, I've never really had a passion for it. So that is perhaps why I haven't acted until this point."
The Passion will be set in modern-day New Orleans and narrated by actor and producer Tyler Perry, according to Deadline. It features a star-studded cast, including Yolanda Adams, Jencarlos Canela, and Chris Daughtry, who will sing contemporary pop music arranged by Glee's Adam Anders. The whole thing was written by Peter Barsocchini, who penned High School Musical.
If you're anything like me, you may be wondering if this admittedly strange-sounding musical is actually a real-life thing. Yes, it is — but it's not actually a new concept. The Passion is based on a Dutch production by Eye2Eye Media, and it's been running on a yearly basis in the Netherlands since 2011. Eye2Eye Media's Jacco Doornbos is actually one of the executive producers for the New Orleans version, too. So it's a new setting, new writing, and a new cast, but it's seen success in Europe, and will likely be an interesting Sunday night viewing — especially if you're keen on seeing Seal try his acting chops on live television.
Care to catch the contemporary Biblical musical? Tune into Fox (either on your TV or online) at 8 p.m. ET. on Sunday.