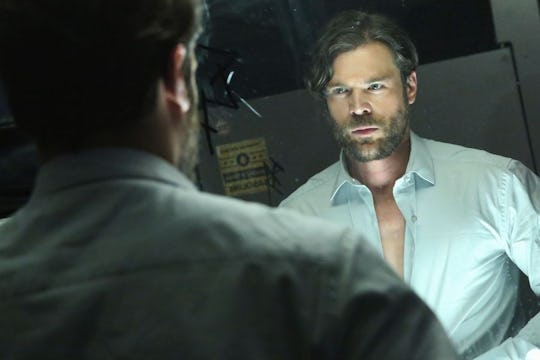 Mitch Haaseth/ABC
What Else Is Charlie Weber In? The 'HTGAWM' Star Got His Start On 'Buffy'
Frank Delfino has been curiously absent from How To Get Away With Murder's third season, with the exception of a few shots of his beaten-to-a pulp face, and one very sexy (or heartbreaking, depending on your preferences) sequence in which he shaves off his lustrous locks and cozy beard. That hasn't stopped Laurel, Wes, and Annalise from trying to hunt him down, though, and considering his heavily implied involvement in the shooting of Charles Mahoney, it's all-but-certain he'll be playing a big role later in the season. So what else is Charlie Weber in?
If you've been marathoning Buffy: the Vampire Slayer recently, you may recognize him as one of Buffy's love interests from Season 5. He played Ben Wilkinson, the Sunnydale Hospital medical intern who was treating Buffy's mom and whose body Glory occasionally inhabited. But Weber really had a home on The CW. He also appeared on classic WB-era shows Charmed, Everwood, and Veronica Mars, solidifying his standing as early-aughts teen heartthrob. In fact, Weber recently poked fun at the fact that he's been cast in roles explicitly crafted for shirtlessness since 1999, posting an old screenshot from his time on Buffy to his Instagram, juxtaposed against his many shirtless Frank moments.
More recently, he's had multi-episode arcs on shows like MTV's Underemployed and The CW's 90210 reboot. He does have one film in post-production, called Ex-Patriot, which may explain his absence from the early episodes of How To Get Away With Murder this season. It's possible the shooting schedules caused a minor conflict, leaving us with a Season 3 opening that was a little light on the Frank. But series creator Peter Nowalk promised that he'll be prominently featured on Season 3.
"We're going to see more of Frank," he revealed earlier this month in an interview with E! News. "We're going to find out where he is and what he's doing and there's definitely a plan there."
There was also a struggle for permission to cut his hair and shave his beard between Weber and Nowalk, so we know production is invested in exactly how his character is portrayed (otherwise, they presumably would have just told him, "YOLO"). Since Laurel visited her dad and got his super secret spy eyes on Frank, I'm guessing his return to Philadelphia is imminent. He's been made, so to speak, and even though Laurel isn't sharing her intel with Annalise just yet, her determination to reunite with her ex is powerful.