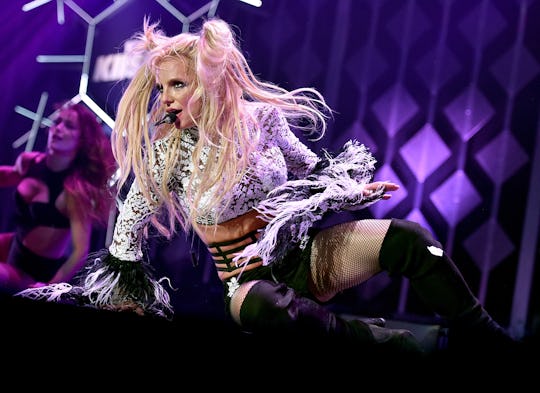 Mike Windle/Getty Images Entertainment/Getty Images
A Man Rushed The Stage At Britney Spears' Concert & The Details Are Terrifying
After the tragedy at the Ariana Grande concert in Manchester earlier this year, concert-goers and performers are justifiably on edge sometimes. And for good reason, if you've heard about what happened at the Britney Spears concert in Las Vegas this week. Luckily, the situation was put quickly under control by Spears' bodyguards, but it was obviously a pretty scary moment for everyone at the Planet Hollywood Resort & Casino Wednesday night.
Spears is in the midst of her "Piece of Me" residency at the arena and was right in the middle of her hit single "(You Drive Me) Crazy" when a man rushed the state. Security tackled the man, who was allegedly asked to leave the concert for being rowdy in the crowd and decided the exit was right through Spears' dancers on stage. He was identified by police as 37-year-old Jess Webb and he did not have any weapons on him, according to TMZ.
At first it looked like the pop legend had no idea what was happening — she even asks the crowd, "Are you having fun?" Moments later, she noticed three of her bodyguards running on stage to surround her. Without missing a beat, you can hear Spears ask her guards "what's going on? he has a gun?" Luckily, he didn't.
But who knew that during the event? Not Spears, for sure, she's seen in the video clutching one of her guards and buckling her knees as she wonders if the man is armed or not. To the right, you can see other guards, and some of her back-up dancers, tackling the man to the ground.
Spears was singing her last song of the night and was escorted off stage after the incident, but according to Instagram comments, she came back on stage to bid fans goodnight. Some on social media mocked Spears for her horrified reaction, which is entirely unfair.
Unfortunately, the threat of violence is always present in large arenas and crowded events, like a Spears concert. But it is reassuring to see that Spears' and the venue's security was totally prepared and ready to stop any disturbance.
Even so, it's hard not to think of all the unsuspecting victims of the Ariana Grande concert bombing in Manchester this summer, though fortunately, this incident in Vegas was nothing compared to that.
It's sad and tragic that fans and performers feel scared every time they gather for a concert or worry that one random, rowdy person could hurt anyone at a concert. Hopefully venues, performers, and law enforcement keep doing whatever they can to protect concert-goers going forward — even if they can't always prevent troublemakers in a crowd.