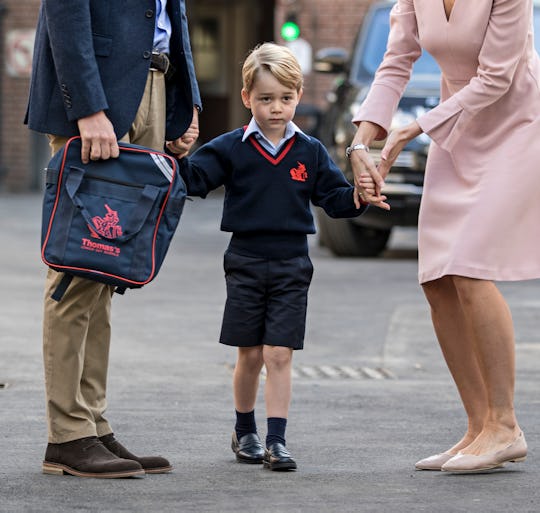 WPA Pool/Getty Images Entertainment/Getty Images
ISIS Supporter Reportedly Admits To Plotting An Attack On Prince George's School
On Thursday, the British man who was accused of threatening members of the royal family online has pleaded guilty to terrorism charges, CNN reported on May 31. Fortunately, it seems that the man in question was caught before anything took place, but with his upcoming sentencing, it's important to know what happened at Prince George's school and what led to this trial in the first place.
Husnain Rashid, a British ISIS supporter, has reportedly admitted to plotting an attack on the 4-year-old and his school, pleading guilty to a handful of terrorism counts on Thursday, according to The Guardian. The charges include, according to CNN, "engaging in conduct in preparation for terrorist acts and encouraging terrorism." The 32-year-old man was arrested in November, according to The New York Times, after posting a series of cryptic online messages calling for terrorist attacks on the royal family, specifically Prince George.
Aside from the online threats, fortunately nothing seems to have actually happened to the young royal or his school, Thomas's Battersea in London. But had authorities not stepped in, it's certainly possible that something could have. According to Us Weekly, Rashid posted the school's address online last October, which was just a month after Prince George started school in September 2017. Rashid was arrested fairly quickly after his posts went live — on Nov. 22, 2017, according to The Guardian — and it's clear that the prince is, and has been, safe.
Rashid's alleged threats were very specific, according to The New York Times, using "an online messaging service in October to publish a photograph of Prince George's school in London, with silhouettes of jihadists superimposed on it." The publication also reported that Rashid allegedly warned: "Even the royal family will not be left alone."
Rashid's sentencing won't take place until June 28, according to CNN, so his ultimate punishment is not clear at the moment. However, after he admitted guilt at the trial on Thursday, The New York Times reported that the judge, Andrew Lees, was not one to mince words when it came to informing the man of the punishment he's facing. According to The New York Times, Lees told Rashid at the hearing today:
You have admitted these allegations of encouraging others to commit terrorist activities and publishing statements to encourage the killing of others. It is inevitable that you will receive a very lengthy prison sentence and there will be a consideration of a life prison sentence.
Though Rashid pleaded guilty to terrorism charges, The Guardian reported that there is "no evidence that anyone acted on his posts." In addition to Rashid's most notable terrorism charges targeting Prince George and his school, he also reportedly made more threats online, allegedly suggesting that ISIS members carry out attacks across Britain at "soccer stadiums, British Army bases, shopping centers and Jewish communities," according to CNN. He also reportedly made threats to "[inject] poison into supermarket ice creams," as CNN reported.
After admitting guilt to all charges against him, it's likely that Rashid will reportedly face a hefty punishment, considering Lees' words at his hearing on Thursday. Of course, hopefully nothing will come from his suggestions to target Prince George's school, but rest assured that the royal family is definitely prepared for any instance of terror. In fact, according to Newsweek, Prince George's nanny, Maria Teresa Turrion Borrallo, is a graduate of Norland College, where she learned all kinds of anti-terrorism and self-defense tactics.
Though his exact sentence is unknown, Rashid faces up to life in prison when he faces the judge again on June 28, as The New York Post reported.