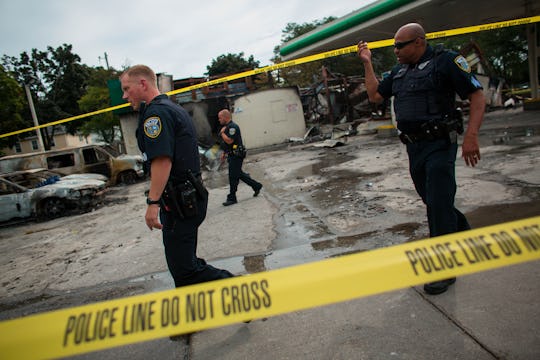 Darren Hauck/Getty Images News/Getty Images
What Happened At The Cascade Mall? Five People Have Died
There is an active manhunt underway in the state of Washington this weekend; an armed gunman is on the loose and authorities are anxious to find him. The man wreaked havoc on Friday night when he entered a Macy's Department Store with a rifle and killed five people, four of whom were women. After opening fire in the Cascade Mall in Burlington, a town an hour north of Seattle, the man escaped towards interstate five, according to CNN.
Sgt. Mark Francis, a spokesman for the Washington State Patrol, shared a surveillance photo of the suspect with the media. The photo was fairly blurred, and the man's identity is still unknown. It's also unclear whether the suspect knew the victims or this was a random act of violence. Police are on the lookout for a Hispanic man wearing black and carrying a hunting-style rifle. Sgt. Francis told the public in a news conference after the shooting: "We are still actively looking for the shooter. Stay indoors, stay secure." The four women who were shot died on scene, while the critically injured male died from his wounds in hospital. The identities of the victims have not been released, pending notification of next of kin. The FBI are now assisting local authorities with the investigation, according to a report by the Associated Press.
One witness who was on site in a Macy's dressing room told The Skagit Valley Herald what she heard when the shooting began. Tari Caswell was in the women's change room when she heard, "what sounded like four balloons popping."
"Then I heard seven or eight more, and I just stayed quiet in the dressing room because it just didn't feel right. And it got very quiet. And then I heard a lady yelling for help, and a man came and got me and another lady, and we ran out of the store."
The FBI's Seattle office took to Twitter to say that it "has no information to suggest additional attacks planned."
Cascade Mall was evacuated on Friday night by 8:30 pm and announced that it would remain closed on Saturday as law enforcement officials perform a thorough sweep of the 434,000-square-foot facility to ensure it is safe for the public.
As law authorities continue to search for the gunman with helicopters and K-9 units, Gov. Jay Inslee released a statement about the Cascade Mall shooting:
We urge residents to heed all safety and detour warnings. Stay close to your friends and loved ones as we await more information and, hopefully, news of the suspect's capture.