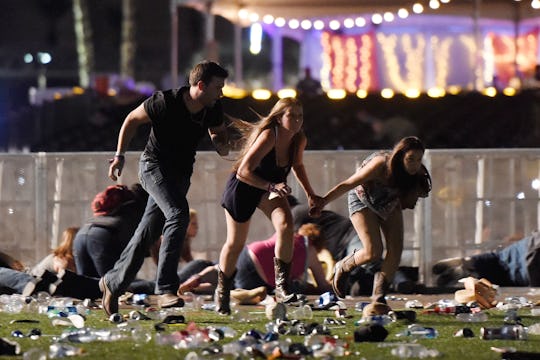 David Becker/Getty Images News/Getty Images
Everything We Know About The Las Vegas Shooting So Far
America woke up Monday morning to the kind of news heard many times before: a lone gunman opened fire in a crowded venue, costing many their lives and everyone else any sense of security in public places. What happened in Las Vegas Sunday night was all too familiar, but the death toll so far is more devastating than ever before.
Update: As of 6 p.m. ET on Monday, Oct. 2, CNN reports that 59 people have died and over 500 people were injured. Authorities say the suspect had 18 additional firearms, explosives, and several thousand rounds of ammo at his home in Mesquite, NV.
According to CNN the shooting took place at a music festival outside the Mandalay Bay Resort on Las Vegas' famed Strip. Country singer Jason Aldean had just started his set when a lone gunman began firing from the 32nd floor of the property. So far the death toll is at least 50, with more than 200 people injured. Those numbers make the shooting the deadliest in U.S. history, with even more fatalities than the June 2016 shooting at an Orlando nightclub in which 50 people died, the gunman included.
The music festival where the Las Vegas shooting took place was the three-day-long country music-focused Route 91 Harvest Festival, The New York Times reported. According to authorities, over 22,000 people were in attendance, and retired FBI special agent James Gagliano told CNN that the height of the shooter's position gave him a significant advantage in terms of wreaking carnage on the crowd below. "People aren't trained to look up," he said, adding that it was clear from videos of the scene that the shooter used an automatic weapon.
Eye witnesses said the gunshots sounded like fireworks and were continuous as the injured began to drop. People began to run and hide under bleachers. Slate noted that one woman, Megan Kearney, told NBC News, "People just kept dropping and dropping, all over the concert." "They just kept firing and firing," another posted on Instagram. Many others posted video footage of the scene and themselves fleeing it. According to CNN, one young woman, Alexandria Cheplak, called her father as she fled and said, "Everyone's dying around me."
The band left the stage mid-song, and Aldean, his wife, and crew were unharmed, E! News reported. Aldean later posted on Instagram, "Tonight has been beyond horrific."
The first reports of the shooting came through at 10:08 pm. One off-duty police officer was among those killed, and two more off-duty officers were injured. At 2:58 am the Las Vegas Metropolitan Police Department tweeted that one suspect had been killed and warned civilians to continue to avoid the area.
The department later tweeted that only one suspect was believed responsible. He was identified as a 64-year-old local resident, CNN reported. According to The Washington Post, the motive behind the shooting is so far unknown. Sheriff Joseph Lombardo said in a press conference that police are also looking for a person of interest, a woman named Marilou Danley, who is believed to be a companion of the suspect, according to ABC News.
On Monday morning, the LVMPD released a statement summarizing what is known so far about the tragedy and how to locate missing loved ones:
In addition to the phone number established by authorities, people could get information about their friends and family via Facebook's Safety Check tool. The social media company deployed it in the aftermath of the shooting as it has in the wake of other tragedies to invite those in the geographical area of the incident to mark themselves safe and the notifying user's Facebook friends accordingly, Bustle noted.
The shooting clearly shook the entire nation. Politicians, celebrities, and ordinary citizens took to social media to express their dismay, their condolences, and perhaps most chilling, how unsurprised they were.
According to MarketWatch, six of the 10 deadliest mass shootings in American history have happened since April 16, 2007, when a lone gunman opened fire at Virginia Tech and killed 33 innocent people. Among those six was the massacre at Sandy Hook Elementary School in Newtown, Connecticut in 2012, in which 20 children were shot and killed. According to McClatchy, Congress has not passed a single piece of gun control legislation since 2007.
Watch Romper's new video series, Romper's Doula Diaries:
Check out the entire Romper's Doula Diaries series and other videos on Facebook and the Bustle app across Apple TV, Roku, and Amazon Fire TV.