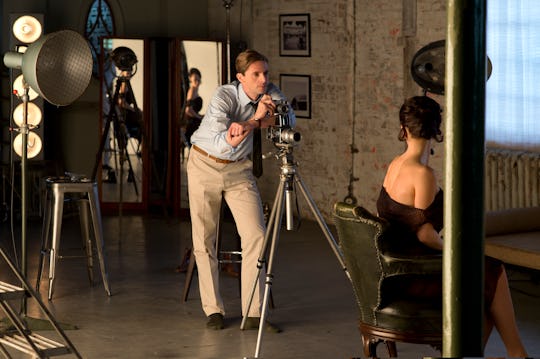 Alex Bailey/Netflix
'The Crown' Season 2 Gives Antony Armstrong-Jones The Royal Treatment
One of the most heartbreaking storylines from The Crown's first season was watching Princess Margaret's relationship with the love of her life Peter Townsend get destroyed because it didn't live up to royal standards. This season, fans will see her meet the man she goes on to marry, but what happened to Antony Armstrong-Jones in real life? Sadly, his relationship with the Princess didn't last.
She was on the rebound when they first met, and Armstrong-Jones was coming from a place of pain as well. In case you need a quick refresher on how Margaret's first love went down in flames: Peter Townsend was Equerry to her father King George VI and her sister Queen Elizabeth II. He was a well-respected air force officer, but unluckily for Princess Margaret, he was married when they met, and, at the time, princesses couldn't marry divorcés. Elizabeth couldn't sign off on the engagement, leaving Margaret heartbroken.
Townsend eventually moved away from London and very soon after he announced an engagement to a much younger woman, Margaret announced her engagement to the photographer and would-be 1st Earl of Snowdon Anthony Armstrong-Jones. Until their union, which earned him his Earl title, Armstrong-Jones was the first "commoner" to wed a princess in over 400 years.
Although certainly some members of the royal court didn't approve of their engagement, given Armstrong-Jones' low-born status, the Royal family embraced him wholeheartedly — likely due to the fact that they were responsible for turning Margaret down once before.
"They all liked him very much — Tony had great charm, very good manners and he knew exactly how to behave," Anne de Courcy, who authored a biography of Lord Snowdon, told Town & Country. "He felt devotion to the royal family, to the Queen, who he admired immensely. He got on very well with Prince Charles and he adored the Queen Mother."
They met on the party circuit, which Margaret attended as a socialite and the most eligible woman in England, while Armstrong-Jones was able to fly under the radar as a glamorous and charming photographer, but ultimately no one important. When their engagement was announced in 1960, partly as a show on Margaret's part that she had moved on from Peter Townsend, the news took everyone by surprise. No one had suspected that the pair were romantically linked, even though they traveled in each others' circles frequently. Later that year, they were married in the first royal wedding to be broadcast on television (in its entirety).
The pair had two children and the first years of their marriage were happy. But while Margaret expected a husband as devoted to the royal lifestyle as she was, Lord Snowdon continued to value his work as a photographer who was eventually appointed to be the artistic advisor to The Sunday Times. Rumors began circulating that they were having extra-marital affairs and by 1978, they announced they were divorcing after two years of separation. Ironically, it was the specter of divorce that prevented Margaret from marrying her true love in the first place (and which led King Edward VIII to abdicate the throne so he could marry a divorcée, eventually making Elizabeth queen). But after all that, it was Margaret who ended up giving us the first royal divorce since King Henry VIII's in 1540.
Lord Snowdon and Margaret remained friendly after the scandal of their split blew over, and he went on to marry a woman named Lucy Lindsay right after their divorce was finalized, though that marriage also came to an end in 2000. Lord Snowdon died earlier this year in January at the age of 86.
Check out Romper's new video series, Romper's Doula Diaries:
Watch full episodes of Romper's Doula Diaries on Facebook Watch.