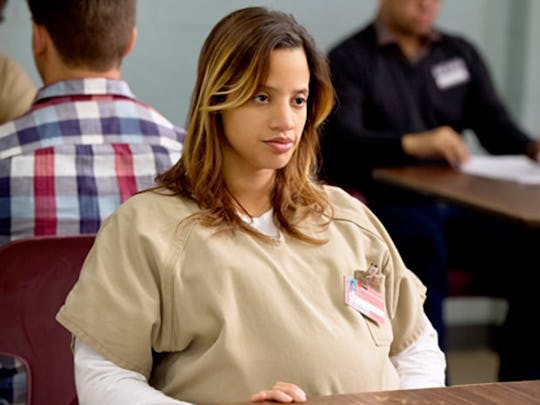 Netflix
What Happened To Daya's Baby On 'Orange Is The New Black'? She Wants To Find Her
One of the best things to come from a TV show where a bunch of women are thrown into prison and have to come to terms with the bad decisions of their lives has got to be the love between Daya and John Bennett. It's also one of the most tragic stories, since John dipped out on both her and their baby midway through Season 3. So, what happened to Daya's baby on Orange Is the New Black? It's hard to think of her baby girl as anyone else's but hers, since as much as Bennett loved her, everything clearly became too much for him to stick around at all. He left his job at the prison, trying to be noble about his relationship with Daya, and ended up getting scared away by her step-dad and the gaggle of kids he was caring for.
On one hand, you can't blame John for being totally intimidated and freaked out. On the other, the dude hasn't been seen for so long that the actor who plays him had to supposedly reassure people that "he's not dead." And when you see Daya go through the birth and then have to give up her baby girl right away, you can't help but harbor a little hatred for the guy. Of course, it's not like it would have been particularly easy for him to get legal custody of the kid, so he'd have to work alongside Daya's stepfather in a way. But just bailing on the whole situation? And leaving the baby's would-be crib on the side of the freaking road? Not cool, Bennett. Not cool at all.
Actress Dascha Polanco revealed that while a reunion between her character Daya and John Bennett would be awesome for fans and their characters alike, that's not what is going to be important for Season 4 of Orange is the New Black. Instead, the focus of Daya is going to be on finding out where her daughter is and being able to build some kind of relationship with the infant the best way she can while she is in prison.
So, now that Daya's stepdad was arrested (big surprise, right?), where is Daya's baby? Along with all of Daya's siblings, she likely got put into foster care, probably separated from the other kids, as those situations often call for. There is also the possibility of Mendez/Pornstache's mother stepping in, even though Aleida lied to her about the baby being stillborn. In the world of Orange is the New Black, though, she could very well find out the truth in some wack, roundabout way, and try to take in the baby, as Daya had previously wanted anyway.
Daya's baby on Orange is the New Black is what will be keeping her going for the better part of Season 4, and rightfully so. When you're in prison, though, its definitely not as easy as picking up a phone to arrange weekend visits with your newborn.