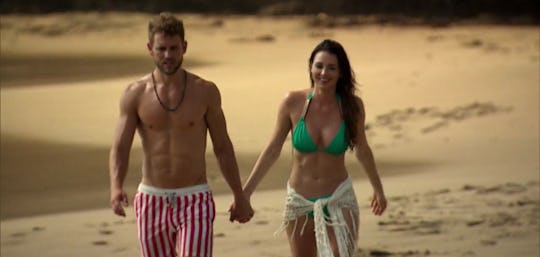 Screenshot/Hulu
What Happened To Jen Saviano On 'The Bachelor'? She Had An Impressive Run
The folks of Bachelor in Paradise are mostly scrambling to connect with an ever-revolving door of Bachelor and Bachelorette alums looking for a second (or in some cases, third or fourth) chance at love. Poor Nick Viall is among the more persistent guys, coming in runner up on not one but two seasons of The Bachelorette, before coming to paradise, falling for Amanda, and promptly losing her to Josh Murray, who also wooed Andi Dorfman. But it's about to turn around for him with the addition of Jen. But what happened to Jen Saviano on The Bachelor? Some folks might not remember her turn on Ben's season, even though she actually made it pretty far!
Jen didn't have any flashy limo entrances, but she was the 25-year-old "Small Business Owner" on Ben's season — a very boring way to say she's a lifestyle blogger who runs her own online boutique called Hot Pink Hanger. (You may recall that she always had excellent outfits during her stint on The Bachelor.) Jen never got a one-on-one date with Ben, which makes it even more impressive that she lasted all the way until Week 5 — right up to hometown dates — before being sent home. She did get to go on four group dates, though, including the very first one, dubbed "Bachelor High," where a bunch of the women went through high school-themed challenges to win "Homecoming Queen" and some one-on-one time with Ben. Even though Mandi won the game and scored private time with Ben, Jen got the very first kiss of the season on this date. She almost snagged the first impression rose, too, but at the last minute, Ben decided to offer it up to Olivia.
Her second group date was shared with the US Women's National Soccer Team, in which the date-goers split up into teams and got to play a game at the Los Angeles Memorial Coliseum. Jen was part of "Team Stars" alongside Amanda and Emily, so she already has at least two gal pals on Bachelor in Paradise. She even scored a goal for her team during the date!
The third group date was the Vegas talent show act, during which Jen had a blink-and-you'll-miss-it performance with a tennis racket, and the fourth date was during the trip to Mexico, which is where Jennifer finally got cut. But hey, at least she got a couple of cool vacations out of her experience, and is about to embark on yet a third during her time on Bachelor in Paradise. And if she can successfully provide Nick with some sweet rejection relief, even better.