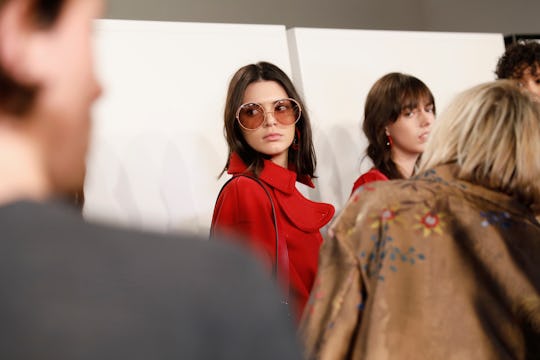 Tristan Fewings/Getty Images Entertainment/Getty Images
Here's How The Kendall Jenner Robbery Went Down
If you've been keeping up with the Kardashians, it's been a crazy six months. From Kim's terrifying robbery at gunpoint to Kanye's personal troubles, you'd think the family could catch a break. But for 21-year-old Kendall Jenner, it seems the spate of troubling events has hit entirely too close to home. What happened to Kendall Jenner? On Wednesday, TMZ reported that someone had broken into Jenner's home in Los Angeles, California, and had stolen a number of personal valuables worth as much as $200,000. Scary stuff indeed.
According to TMZ, Jenner left her $6.5 million Hollywood Hills home at around noon local time on Tuesday. Jenner posted a photo to her Instagram account at around the same time, announcing a new contract with watchmaker Daniel Wellington, and sporting a gorgeous DW Classic Petite watch. While Jenner didn't tag a location in her photo, TMZ said that she didn't return to her home until about eight hours later. It was only when she went to her bedroom at around 1 a.m. in the morning that Jenner noticed some jewelry was missing, and that's when she called the Los Angeles Police Department.
TMZ reported that Jenner called 911 after hearing sounds in her home and was worried the intruder might still be in her home. Speaking to E! News, an LAPD spokesperson confirmed that no intruder was found after a thorough search of Jenner's home, and there was no forced entry.
This is certainly scary news for the young model, especially after older sister Kim Kardashian was robbed at gunpoint after being bound and gagged by masked intruders at her private Paris apartment in October of last year. 17 people were arrested in connection with Kardashian's robbery, including Kardashian's own chauffeur while she was in Paris for Fashion Week — and there does not appear to be any connection between Jenner's robbery and Kardashian's.
That said, Jenner's robbery does not appear to be an isolated incident, as hers is just one in a string of celebrity home burglaries in Los Angeles in recent weeks. Lt. Todd Hankel of the San Fernando Valley Knock Knock Task Force told The Hollywood Reporter that the burglaries do not appear to be the work of a lone individual, rather that "This is organized crime" — and it certainly is organized and focused on going after celebrities when they're not home, which the celebrities themselves have broadcasted on social media.
In February, Nicki Minaj was was robbed of approximately $175,000 in jewelry from her Los Angeles mansion, according to Billboard. 10 days later, singer Alanis Morrisette was robbed of nearly $2 million in jewelry and valuables in her West Hollywood home. Less than a week after Morrisette's break in, burglars stole from LA Lakers guard Nick Young — almost a half a million dollars in valuables — while he was at the NBA All-Stars Game in New Orleans, Louisiana. Early last week, LA Dodgers outfielder Yasiel Puig was robbed of $170,000 in valuables of mostly jewelry like the others robberies, from his Sherman Oaks home.
Thankfully, Jenner is physically safe, but as Kardashian's terrifying robbery experience from last year proves, it might take a while for Jenner to feel mentally safe and OK in her own home.