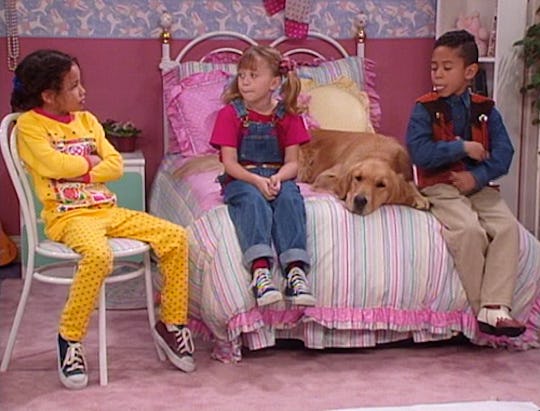 What Happened To Michelle's Friends On 'Full House'? The Kids Went On To Do Amazing Things
Full House always incorporated awesome guest stars (I mean, seriously, how many times did The Beach Boys show up?), but my favorites were always the girls' friends, specifically Michelle's buddies. You want to talk about #squadgoals? Michelle Tanner had the best little posse around. But what happened to Michelle's friends on Full House and where can I find my own set?
Well, I can't say exactly what happened to the pint sized crew in Full House land, but the actors that portrayed the sassiest kids you've ever met have been pretty busy for the most part. And not all of them continued with their acting career. Before, I liked to think that their lives would mirror their characters. Like Lisa and Derek would grow up to be some awesome singing duet like Sonny and Cher. Denise would be some great artist, Teddy would be a friend to all, and Aaron . . . well. Did anyone actually like Aaron Bailey?
Characters aside, the actors that played them haven't disappeared entirely. Since Michelle Tanner won't be returning to the Fuller House show dropping on Netflix Feb. 26, we can assume neither will her friends. But we can all hope right? In the meantime, you want to know what happened to them and you got it, dude. Here's what Michelle Tanner's BFFs are currently up to.
Teddy (Tahj Mowry)
‌First things first, was Teddy not the cutest kid you ever saw? Played by Tahj Mowry, younger brother to Tia and Tamera, Teddy was always one of my favorites. But Mowry's acting career didn't end with Full House. He went on to star in his own series, Smart Guy, made a bunch of guest appearances, voiced Wade Load on Kim Possible, and currently stars on the Freeform series Baby Daddy according to IMDB.
Denise (Jurnee Smollett-Bell)
No one is sassier than Denise Frazer, played by Jurnee Smollett-Bell. Although she may not be imparting wisecracks on the Tanner family anymore, Smollett-Bell is still pretty busy. She was part of several early '90s series including On Our Own and Cosby, and had several guest roles until she landed the role of Jess Meriweather in Friday Night Lights. Her IMDB account also lists her role as Lisa Tyler in the short-lived series The Defenders, and has been featured in Parenthood, Underground, and True Blood. She's also been in a handful of movies including The Great Debaters, but her work doesn't end with the entertainment industry. She's also a huge advocate for HIV/AIDS awareness.
Aaron (Miko Hughes)
Aaron, may have been a total brat, but his portrayal by Miko Hughes was one of the most entertaining parts of Full House. You probably remember Hughes from tons of movies in the early '90s, as he was one of the most popular child stars, playing Tom Hanks's youngest son in Apollo 13 and starred in Mercury Rising. He's continued guest work on shows since then, including Roswell and Boston Public, and has also been in a few movies like Tropic Thunder and Escape to Grizzly Mountain per his IMDB page. He has quite a few projects listed for this year, and is fairly big into social media with both a Twitter and an Instagram account.
Derek (Blake McIver Ewing)
If you didn't aspire to dance and sing and basically be a joy to the entire world like Derek, then I don't know if we can be friends. But if you still want to know what the actor who portrayed Derek, Blake McIver Ewing, is up to, then you're in luck. For starters, he hasn't done a whole lot of movie and television work since Full House. He guest starred on a few shows, like Clueless, and did some voice acting in Tarzan, Recess, and Hey Arnold! according to his IMDB page. He also appeared on several episodes of Bravo's The People's Couch. But in his personal life, McIver is a singer/songwriter, a proud, outspoken gay man, and has a large social media following. In 2013, he gave an interview where he mentioned working as a go-go dancer while working on his first solo album, so you know he's totally killing it, and he has also released a single advocating for marriage equality. And to top it off, he hosts a weekly musical happy hour on his Facebook. As if I couldn't love Derek anymore.
Lisa (Kathryn Zaremba)
kathrynzaremba on Instagram
Probably the only one of Michelle's friends not continuing her career into entertainment, Kathryn Zaremba went on a totally different path. (I mean, she was Lisa after all.) After Full House, Zaremba did a little more work in the '90s, but is now an illustrator and surface designer for her own line, Kate Zaremba Company. She was an assistant for Jonathan Adler before that and illustrated and designed textiles for Rachel Antonoff according to her website. Basically? She's got serious taste and designs illustrations, wallpaper, art prints, and more. Fitting for Lisa, right?