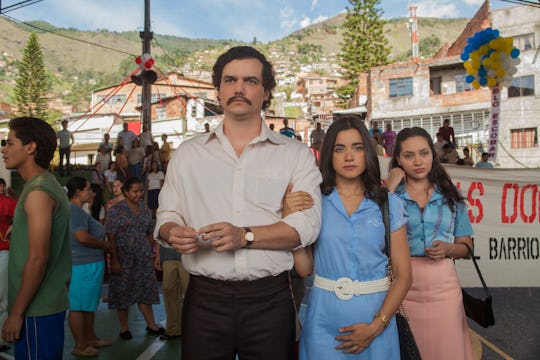 Daniel Daza/Netflix
Pablo Escobar's Wife Is Making A New Start On 'Narcos'
It was never very clear how Narcos would span several seasons just by telling the story of Pablo Escobar. His life as an international drug lord was nothing short of insane, but since he died at 44, there will be a new story of drug kingpins. And now that Escobar's death was shown, it begs the question of the fate of his family, who viewers last saw trying to flee the country. So, what happened to Pablo Escobar's wife? The Narcos character tried to start a new life with her children.
As seen in the Season 2 finale of Narcos, Escobar's wife Tata sought help from the Cali Cartel in order to flee Columbia with her two children, Juan Pablo and Manuela. In real life, Escobar's wife, whose real name was Maria Victoria Henao (Tata was her nickname), did indeed flee the country following her husband's death, but it's unclear if she went to a drug cartel for assistance to do so. After searching for a country to grant them asylum, Henao and her children settled in Argentina.
Years later, in 1999, Henao, who changed her name to Maria Isabel Santos Caballero, and Juan Pablo, who later changed his name to Sebastian Marroquin, were arrested on money laundering charges in Argentina. The pair were first arrested for entering Argentina with false papers and later charged for laundering money.
The crime against Henao and her son involved alleged money laundering via Colombian drug lords in Uruguay sending them money. But after spending 15 months in jail, she and her son were both released due to a lack of hard evidence against them in the case.
In real life, Escobar and Henao were married in 1976, when she was just 15 years old and Escobar was 26, but she remained loyal to her husband and their marriage lasted until his death in 1993 when he was taken down by DEA agents Steve Murphy and Javier Pena and the Colombian police. On Narcos, Escobar's wife was shown as having an unwavering loyalty to him regardless of his accused crimes and dealings, and while some of the show is dramatized, that much is likely true.
But now that the story of Escobar is pretty much over on Narcos, it's not clear if viewers will get a look at his family in the aftermath of his arrest. Narcos showrunner Eric Newman spoke to The Hollywood Reporter in 2016 and confirmed that Season 3 and 4 of Narcos will focus on the Cali Cartel, which viewers saw some of in Season 2. That likely means that with the initial story wrapped, what happened to Escobar's wife won't be visited much, if at all.