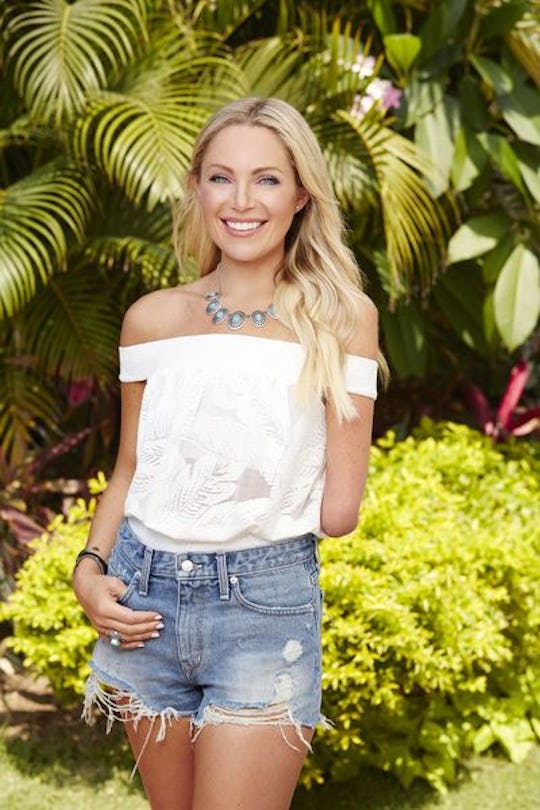 ABC/Craig Sjodin
What Happened To Sarah Herron's Arm? The 'Bachelor' Contestant Is Empowering Young Girls
When Sarah Herron appeared in Season 17 of The Bachelor, she was upfront about the fact that she has one arm right away. She didn't announce it in a huge way, but instead took bachelor Sean Lowe aside and told him that she wanted to bring it up before it was an awkward and avoided topic. And, of course, Lowe was totally unfazed by her admission. But, that might still lead viewers to wonder about what happened to Sarah Herron's arm?
The fact is, Sarah was born with only the upper part of her arm because of a condition known as Amniotic Band Syndrome, which effects anywhere from 1 in 1,200 to 1 in 15,000 births and has varying degrees of characteristics. The condition can effect just one part of the body, like in Herron's case, or can be attributed to similar changes in both arms or the legs even. Regardless, Herron has done nothing to let it stop of her from being hardcore and awesome in pretty much everything she does.
Amniotic Band Syndrome refers the rupture of the amniotic sac, wherein fibrous bands from the amnion float in the amniotic fluid. Because of this, the baby's limbs can be caught in the fibrous bands. And as he or she continues to grow in utero, the bands tighten around the limb or limbs, cutting off circulation and, in some cases, requiring surgery to remove them. For Sarah Herron, her arm was the only limb effected by Amniotic Band Syndrome, and other than her left arm, there are no physical signs of the condition in her body.
In spite of being born with one arm, Herron has pushed her body to the limit time and again with hiking excursions and being a total beast in the gym. But it's not a matter of being proud of her for exceeding physical limitations because she was born with one arm, but instead recognizing that it has made no difference to her physical abilities in life. And probably because of it, she likely has an even greater appreciation for all that our bodies are capable of doing.
Sarah Herron also founded and runs SheLift, an organization that works in "empowering girls to conquer their personal mountains". Through daytime or weekend long events, the nonprofit uses outdoor physical activities to help inspire confidence and motivation in girls who have born with similar conditions and have been made to feel different.
Herron was on Season 17 of The Bachelor, the first season ever of Bachelor In Paradise, and will now be returning for Season 3 of Bachelor In Paradise to look for love once again. It's hard to say what she will find with guys like Chad Johnson from the latest season of The Bachelorette in the tropical paradise they'll be in, but with so much to offer, a girl's gotta try, right?