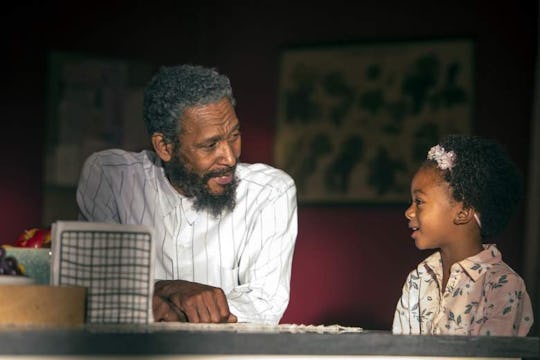 NBC
What Happened To William On 'This Is Us'? Randall's Dad Has A Grim Fate
Did you really think you were going to escape an episode of This Is Us without crying or being faced with a big twist, or possibly both? Tuesday's episode "The Game Plan" gave us all the usual feels, but they ended the episode with something they haven't done before — they gave us a glimpse of what appears to be a flashforward. We saw Randall sitting in his daughter's room, where William had been staying, teary-eyed as he packed up his father's belongings. So what happened to William on This Is Us? We've all known that William has been sick with stomach cancer and supposedly only had a few months left, but this is TV and I think I speak for everyone when I say that we were also kind of expecting some last minute change in his health or a false diagnosis. Even William lying about his illness at this point would be better than seeing Randall so broken.
But in this apparent flashforward, that's exactly how we see Randall — packing William's things into a box with his biological father nowhere in sight. While it would be amazing to learn that William didn't die, there is legitimately only two things that could have happened to William and one of them is more probable than the other. So what happened to William on This Is Us?
He Got Better & Decided To Move Out
All that we know right now of William's future is that we see a quick scene of Randall boxing up all of his belongings. For all we know, though, Randall's tears are because his father decided to leave the house and "abandon" him again, in a sense. Or, William recovered and left in the middle of the night, unexpectedly, and left behind all of his things, which Randall then had to go through himself. Not the best theory out there, but it's a lot better than thinking that William does eventually die.
He Died From Stomach Cancer
Even though William has had cancer since Randall found him in the series premiere of This Is Us, many viewers kind of figured that he would somehow get better and that we'd get to see him live out not only the first season, but also the majority of the series. But if the flashforward is what it seems, then William is dead and the doctors were right in their assessment that he had only a few months left before his stomach cancer worsened to the point of killing him.
Whatever happened to Randall's dad on This Is Us isn't going to be easy to stomach, because either way, it means that William is gone in some capacity and Randall is lost once again. William has managed to find a place in Randall's family and even with Kevin, so I think I speak for us all when I say that the loss is going to sting.