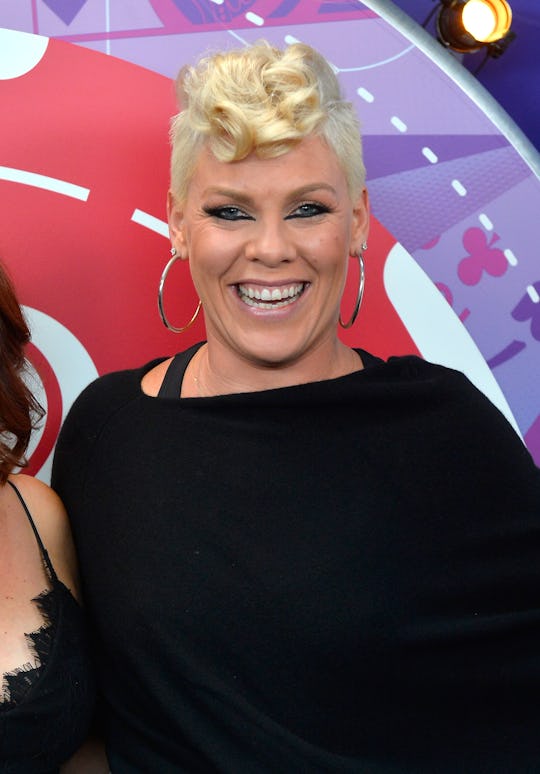 Bryan Steffy/Getty Images Entertainment/Getty Images
What Happened When Pink Tried To Prank Her Daughter For 'Jimmy Kimmel' Is Hilariously Unexpected
I'm not sure what's more fun; eating all of your kids' Halloween candy or telling them you ate it and watching them implode. Especially if they're imploding on You Tube for the yearly "Hey Jimmy Kimmel, I Told My Kids I Ate All Their Halloween Candy" prank. While I've never done it to my kids (I'm more into surreptitiously sneaking the odd mini Snickers if I think I can get away with it), the video of other parents kinda/sorta torturing their kids usually cracks me up. Especially when Pink tried to prank her daughter for Kimmel, because her reaction was super unexpected.
During a chat with Channing Tatum, who is one of several stand-in hosts on Late Night With Jimmy Kimmel, Pink admitted that she and husband Carey Hart decided to prank their 6-year-old daughter Willow. The "What About Us" singer was met with *jokingly* disappointed groans from the audience when she said Hart had tried to tell daughter Willow that he had accidentally eaten all of her Halloween candy after having "a few beers," but she explained to the crowd that Willow "knows what's going on. You don't have to feel bad for her," according to The Huffington Post.
And she was right... because the savvy kid wasn't about to believe her dad would do that to her.
While plenty of kids have famously thrown temper tantrums, and rightfully so to be fair, Willow was one cool cucumber. Hart entered the room with an emptied out Halloween bag (and yes, ok, maybe Willow's initial reaction was to throw the bag at him), and explained he had eaten her candy "on an accident." to which Willow wisely replied:
You promise? You don't, do you? So I don't believe you.
According to Pink, Willow is an old hat at her off-road truck racer dad's pranks. She told Tatum that Hart is "always" playing pranks on her, so she's used to hilariously questioning his motives.
Unfortunately for Tatum's own daughter, she was not quite so quick to pick up on the joke.
The Magic Mike actor decided to pull the popular yearly prank on his own 4-year-old daughter Everly... and she totally believed him. And wife Jenna Dewan Tatum was there to film the whole thing.
When Tatum explained to his daughter that he had eaten all of her candy the night before because he had gotten hungry, she crawled to her mom and wrapped her arms around her legs, crying. Tatum came clean quickly, bringing out her actual candy while his daughter wiped her eyes, saying "Dad, that's not funny."
Except maybe it was a little funny.
Even Kimmel himself got in on the act, trying to trick his 3-year-old daughter Jane, who honestly didn't seem overly concerned. He showed her a bag with one candy at the bottom, and she said, "What? I still have one? Don't worry."
Then the oven dinged, apparently signifying that her waffles were done. And little Jane was happy as a clam. Ah, to be a 3-year-old with fresh waffles coming down the pike.
One day, perhaps, both Tatum and Kimmel's daughters will acquire the intuition of Pink's daughter Willow. Pranks like these will most likely help them wise up in a hurry. And one can only hope that Willow will pass her wisdom down to her 10-month-old baby brother, Jameson Moon. Because with a prankster dad like Hart lurking around every corner, Jameson is going to need to learn the ropes pretty quick. Luckily for him, he has an older sister like Willow who already knows the lay of the land.
She's got it figured out.