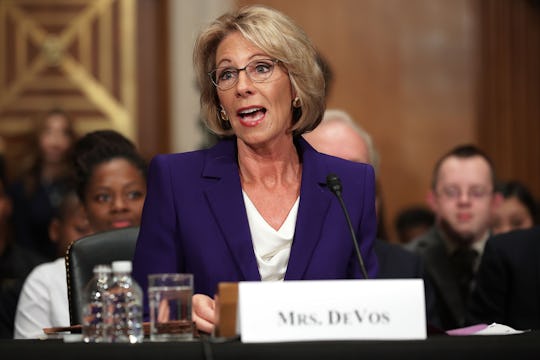 Chip Somodevilla/Getty Images News/Getty Images
Here's What Happens If Betsy DeVos Gets The Boot
Many of President Donald Trump's Cabinet picks have been pretty unpopular, even among Republicans. But the biggest pushback so far — especially among Senate Democrats — has been against Betsy DeVos, Trump's pick for education secretary. Her final Senate confirmation vote is set for noon on Tuesday and DeVos' nomination could fail if only one more Republican senator votes nay (two Republicans have already retreated and sided with Democrats already). So, what happens if the Democrats' efforts succeed — and what happens if DeVos isn't confirmed as education secretary?
Basically, the process, with a new nomination, would start all over again. But there are a couple of scenarios that could happen on Tuesday afternoon.
At the moment, there are reportedly 50 senators who plan to vote against the billionaire Republican donor, including GOP senators Lisa Murkowski of Alaska and Susan Collins from Maine who said last week that they won't support her nomination, according to Vox.
The Senate still seems to be split 50-50. If that doesn't change by Tuesday afternoon, then Vice President Pence is expected to break the tie with a vote slated to confirm her. According to NPR, there's nothing Democrats can do to stop this from happening because "Cabinet members are no longer subjected to a 60-vote threshold to end debate." That's one scenario.
A different scenario could unfold if the Democrats are able to sway one more Senate vote in their favor. They plan to speak all night to give the public more time to reach out to their state's representatives, in the hopes that at least one will change their mind. If that happens, then the process starts all over again and Trump will have to submit another nomination to Congress.
Democrats are hopeful and there was talk that Republican Sen. Pat Toomey, who represents Pennsylvania, was reportedly under pressure to rethink his position. But on Feb. 3 he issued a statement that he would in fact be casting a vote to confirm DeVos. Even so, according to The Huffington Post, some Democrats think they can make him flip.
"We are trying to do everything we can to persuade just one more Republican to join us," Sen. Patty Murray of Washington said on Monday, according to Fox News. "Double down on your advocacy… She's spent her career trying to destroy public schools."
Also in the fight with Senate Democrats are teachers unions and several advocacy groups who say DeVos' plans and positions will only hurt public education. What's more, she said during her rather disastrous confirmation hearing that she won't stand up for students with disabilities and, bizarrely, said that she wants to allow guns in schools because there might be bears to fight off.
DeVos, who has no experience in public office, only needs a simple majority from the Republican-held Senate to be confirmed as Trump's secretary of education. But considering how DeVos' nomination has enraged so many Americans, the education system might be one thing they can control.