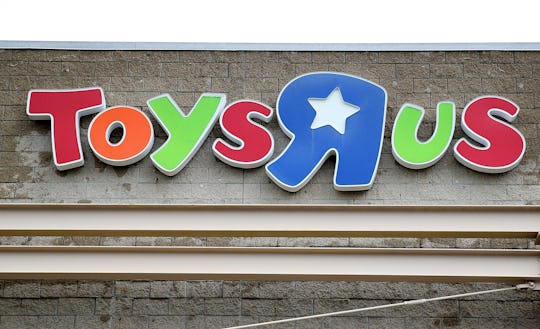 Justin Sullivan/Getty Images News/Getty Images
Here's What Will Happen To Your Toys "R" Us Promo Codes As The Stores Close
If you haven't heard the news by now, then I hate to be the one to destroy your happy childhood memories, but unfortunately, it looks like Toys "R" Us stores might soon go the way of other brick and mortar fixtures from a bygone era. So you may be asking yourself, "What happens if I have a Toys "R" Us promo code?" Will they be worth about as much as your Monopoly board game money? Or will they still hold some kind of value even if your local Toys "R" Us has long since closed its doors for good? If any of these questions have been floating around in your mind, you're definitely not alone.
Though it hasn't been particularly clear as to how the remaining open Toys "R" Us stores will process promo codes, there has been a flurry of recent details about the toy giant's closing. In fact, once the news came out that "Toys "R" Us said it's planning to sell or close all of its U.S. stores, including Babies "R" Us locations," as USA Today reported, all manner of questions regarding what things would look like for customers moving forward began to pour out from the masses.
This past week alone, my news feed, inbox, and texts have been flooded with panicked parents wanting to know what's going to happen to their Toys "R" Us promo codes, gift cards, and registries. I completely understand the feeling because when I was pregnant with my son, my hormones sent me into a tizzy after I learned Blockbuster was closing its doors for good. It's rarely easy to let go of something that played such a big role in your childhood. But, thankfully, there are some concrete answers to calm any fears you may have about losing out on certain things due to Toys "R" Us closing its stores.
If you have anything with cash value, you may be wondering if you can use it or if it's already lost worth. "Merchandise credits will be honored throughout the store closing sales," according to the official Store Closure section on the Toys "R" Us website. Additionally, "gift cards will be accepted in closing stores." Though some experts warn that there may be as few as 30 days left to use your Toys "R" Us gift card since bankruptcy and store closings can have an unpredictable timetable, reported The Washington Post. Of course, you can always call your local Toys "R" Us to see if they are following the store's national policy.
In terms of the store's customer loyalty program, there's some optimistic news. "Customers will continue to earn loyalty rewards for purchases made in closing stores," according to the previously mentioned Toys "R" Us Store Closure section. It's further noted that customers will, "be able to use their loyalty rewards toward purchases made in closing stores." It's still not completely clear as to what will happen to gift cards, earned loyalty rewards, or merchandise credit if your local store has already closed, though.
The closest you can get to a solid answer on the topic of promo codes may not be what you were hoping to hear from Toys "R" Us. "Coupons will no longer be accepted at closing stores with the exception of giveaways, Birthday Club coupons, rewards redemption coupons, registry completion coupons, and instant Credit Thursdays," as is noted on the Toys "R" Us Store Closure section. One silver lining can be found in said section, however. "Closing stores will offer deep discounts and promotions unique to these locations. They will also continue to honor customer programs including gift cards, Endless Earnings, and credit card specials." A final word of caution, the site also reported that all sales at Toys "R" Us stores are final. Here's hoping this isn't a goodbye, but a see ya later scenario for this beloved toy store icon.
Check out Romper's new video series, Bearing The Motherload, where disagreeing parents from different sides of an issue sit down with a mediator and talk about how to support (and not judge) each other's parenting perspectives. New episodes air Mondays on Facebook.