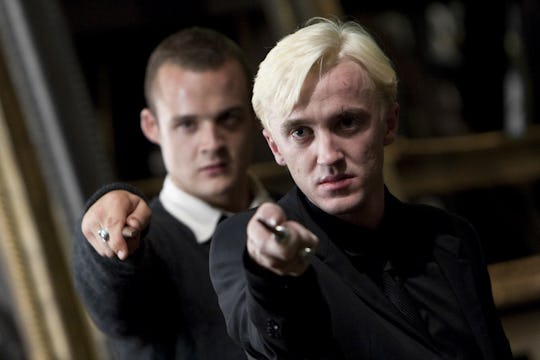 Warner Bros.
What Happens If You Find Out Your Child Is A Slytherin? Breathe — It'll Be OK
There are a lot of important things to consider when you have a child. You know, things that determine their quality of life, their happiness, their general, overall well-being. But there are few things that matter more than knowing which house they would be sorted into at Hogwarts, am I right? I mean, if that doesn't tell you all of the character traits your little one possesses, what will? And let's be honest here, what happens if you find out your child is a Slytherin?
OK, let's not panic. For one thing, your kid probably looks great in green. And although Slytherins are known for having affinity for dark magic, their bullies, and the founder of Slytherin was an intolerant, pure-blood maniac, it doesn't mean you're raising the next Donald Trump. On the contrary, Slytherins can be great. After all, Harry Potter himself, i.e. The Chosen One, could've been sporting a serpent on his robes if he hadn't been so vehemently against it when wearing the Sorting Hat.
So what happens if you find out your child is a Slytherin? Obviously, you love them regardless, you look at the positive traits of a Slytherin, and you thank your lucky stars for your child. A Slytherin is resourceful, ambitious, cunning, and knows what they want out of life. They don't have time for those who are unsure of themselves or insecure. Can it translate to narcissism and selfish tendencies? Only if you let it.
I mean, every house has its faults, right? Gryffindors may be brave, but they don't seem to have a lot of respect for authority. Every personality trait has the option of veering off into negative behavior. A kid who pleases everyone can become a doormat without the right direction. A kid who is selfless can feel resentful as time goes on. And a kid who belongs to a house known for its superiority complex can become an adult with a high self-esteem and a desire to be better than ever.
I know, you're still not convinced. OK, there are a few things that happen when you find out your kid is a Slytherin, but I promise, you're going to make it. (Even if they speak Parseltongue.)