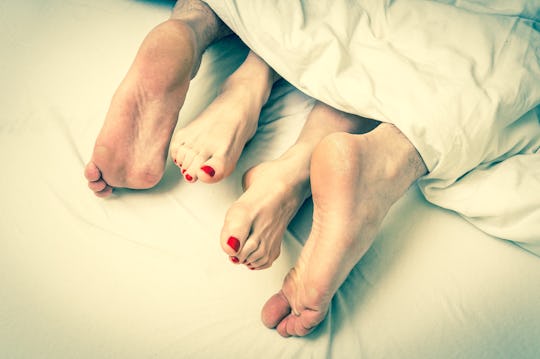 Shutterstock
If You Accidentally Had Sex With A Tampon In, Here's What You Need To Know
Hey, accidents happen to everyone. If you've been menstruating for many years, you know it's possible to forget when you changed your tampon last or if you even have one in at all. So it's not hard to see how someone could forget about wearing a tampon and then try to pursue intimate activities, only to realize a disaster has occurred. So what happens if you have sex with the tampon in? Will you be okay, or should you go straight to the hospital?
In most cases, having sex while wearing a tampon is more of an inconvenience than anything. "The tampon may be pushed further into the vagina causing difficult removal," as Dr. Paulami Guha, MD, a Board Certified obstetrician-gynecologist and medical advisor for eMediHealth, tells Romper in an email. But it isn't an immediate emergency in most cases. "The tampon will simply be compressed to the side or to the upper portion of the vagina and will absorb some of the semen. There is nothing intrinsically dangerous about this happening," as Felice Gersh, M.D., OB-GYN and founder and director of the Integrative Medical Group of Irvine, explains to Romper via email. With that said, if you're in any major pain, then contact a medical professional at once for advice.
If you aren't hurting much or at all, then this might be one issue you can fix at home with a little patience. (And if this whole idea is completely freaking you out, then consider looking into getting a menstrual cup so you can avoid the possibility altogether. Either way, take a deep breath. Although you're probably feeling a little panicky (and/or embarrassed), it's actually not that uncommon. Yes, this situation is difficult to read about without cringing majorly, but it's important to know what to do if the situation ever happens to you. So if you ever find yourself thinking, "now what" after accidentally getting it on while wearing a tampon, here's what you should know.
This article was originally published on