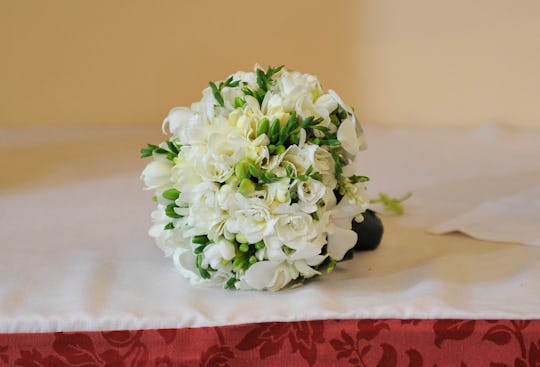 Gareth Cattermole/Getty Images Entertainment/Getty Images
Here's How Royal Tradition Handles The Tossing Of The Bride's Bouquet
For the royal wedding coming up May 19, you know Meghan Markle and Prince Harry have focused on every little detail, making sure everything is perfect, beautiful, elegant, and of course follows some of the royal traditions. Some traditions include having children in the wedding party, having a fruitcake with "sky-high tiers," and having two receptions. Another royal tradition, of course, has to do with the bouquet. Not only what it has to include, but what happens to the bouquet at the royal wedding. Does it get thrown like other wedding ceremonies?
According to Town and Country, Markle's bouquet will be made up of "branches of beech, birch, and hornbeam, along with white garden roses, peonies and foxgloves." Peonies are Markle's favorite flowers, by the way, so it's nice she can put a personal touch in there. Traditionally, royal wedding bouquets have at least one sprig of myrtle, Town and Country noted, and this tradition dates back to Prince Albert and Princess Victoria's wedding. It "symbolizes hope and love." As far as what happens to their beautiful bouquets full of tradition, symbolism and the wow factor, Business Insider says it's tradition to leave the bouquet at the grave of the "Unknown Warrior" in Westminster Abbey to "honor those in military service." The article noted this particular tradition started back in 1840 when Queen Victoria and Prince Albert got married.
Even though Markle and Prince Harry aren't the most traditional couple when it comes to some of their wedding tastes (and the fact that the wedding will be held outside of Westminster Abbey at St. George's Chapel), Town and Country speculates she'll probably have her bouquet sent there like Sophie Rhys-Jones did back in 1999 after she married Prince Edward.
So what's the point, traditionally, in having a bouquet when you walk down the aisle and why do we throw it to all the single ladies at the end of the reception? According to Huffington Post, it's actually a not-so-glamorous reason that women started carrying bouquets down the aisle. In the 15th century, people took their annual baths in May (yep, just one bath a year), so June was the most popular time for weddings. And since women got last dibs on taking a bath (she had to bathe in the same water that all the men in her family already bathed in), the bouquet was used to mask the pungent odor she may or may not have. Also, according to How Stuff Works, brides carried pungent herbs because of the plague, "when people clutched the herbs over their noses and mouths in a desperate effort to survive." Garlic and dill were the most popular herbs to carry because of their strong scents and medicinal properties.
As far as why we throw bouquets, Reader's Digest reported that throwing and even carrying a bouquet is meant to "protect" the bride. It used to be considered good luck for guests to be able to touch the bride, including trying to rip pieces of her gown off to take some her good fortune for themselves. "In order to deter guests, the bride began tossing their bouquets into the crowds to distract people, then making a break for it with her husband to the bridal chamber," Reader's Digest noted. Guests thought that by snagging some of the flowers, they'd have better romantic luck. Now, we toss it for the fun, photos, and the lore that whomever catches it will have good fortune, single or not.
So while the royal wedding won't include tossing the bouquet to the crowd, it does still hold some major significant traditional value. And believe it or not, our commoner bouquet traditions are also steeped in some cool, albeit stinky, history.