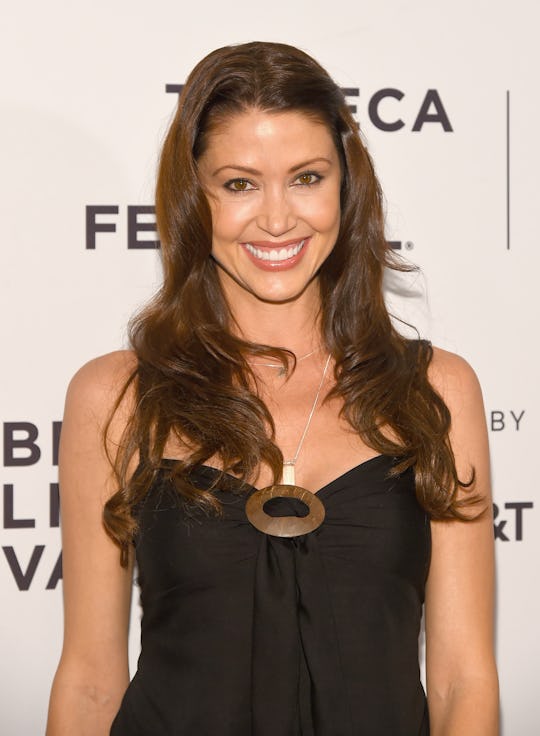 Ben Gabbe/Getty Images Entertainment/Getty Images
This 'American Pie' Star Is Heading To The 'Big Brother' House
To some, she might always be known as the foreign exchange student from a raunchy teen comedy franchise that began in the late 90's, but what has Shannon Elizabeth been doing since American Pie? Celebrity Big Brother is the next big role for her, but this time around, she'll be playing herself since it's reality TV and one of the most epic kinds of reality shows at that. Instead of competing for a dancing trophy or trying to earn a spot as a big time executive, this reality show is about staying in one house with several other people and no contact with the outside world while trying to outwit and outsmart each other.
But before Elizabeth agreed to be one of 11 contestants on Celebrity Big Brother, she'd already competed and appeared in a couple of other reality TV shows after garnering fame from the very first American Pie movie. In 2008, she competed on Dancing With the Stars Season 6 and came in sixth place, but left the show in a romance with pro partner Derek Hough. Spoiler alert: they later broke up and announced it to the world via Twitter. But despite being well-known for this one particular acting role over the years that also earned her a spot in both American Pie 2 and American Reunion, Elizabeth has appeared in plenty of different big screen and small screen movies over the past decade, including a TV show or two. So she's never really been not working.
Near the end of the TV series That 70's Show, Elizabeth has a nine-episode arc and she also starred in a Hallmark Christmas movie in 2013. Most recently, she co-starred in the movie Swing Away, but in her personal life, Elizabeth has made some big changes that were put on hold to be part of Celebrity Big Brother. "I'm living in Africa right now, so I came back over for this," the actress revealed to Entertainment Tonight. She's been heading her charity Animal Avengers in South Africa and has actually relocated there to work on it. According to her website, Elizabeth started the non-profit in 2001 and decided to work with a focus in South Africa because she believes that "working alongside government is the most efficient way to make change in the largest capacity."
Not all of the celebrities appearing on the show this season are very familiar with Big Brother as a whole, but Elizabeth is probably the super-fan of the group, as she's seen every season and already has a strategy going into Celebrity Big Brother. "You don't want to be a target and there's multiple ways to try to fade into the background a little bit, lay low," she said in the same Entertainment Tonight interview. "The big strong guys — there's a reason they always go first." She knows the value in having not only skills when it comes to competitions, but also a good social game overall. So my money's on Elizabeth using her prior Big Brother knowledge to clean up this season.
She also said in her interview that she has a boyfriend, so there will be no showmances for her during the shortened Celebrity Big Brother season, but there doesn't seem to be anything about a possible boyfriend on her Instagram. She could just be keeping that part of her life private. Perhaps the 2014 rumors about dating Russell Simmons had some truth to them and she prefers to keep their relationship more on the down-low. Either way, there isn't much to go on as far as who she's dating right now.
Elizabeth has also kept in contact with some of her American Pie co-stars, which says a lot since the franchise began in 1999. It's still heartwarming to know that the actors are still relatively close and seem to have maintained that original bond. Or at the very least, close enough so that when they get together it seems natural for them.
It's not going to be her acting experience or even prior reality TV experience that takes Elizabeth far this season, however, but rather her knowledge of the competition itself. And with a cast that may or may not even be familiar with some of the important Big Brother jargon, that prior knowledge may go a long way for the actress and philanthropist.
Check out Romper's new video series, Romper's Doula Diaries:
Watch full episodes of Romper's Doula Diaries on Facebook Watch.