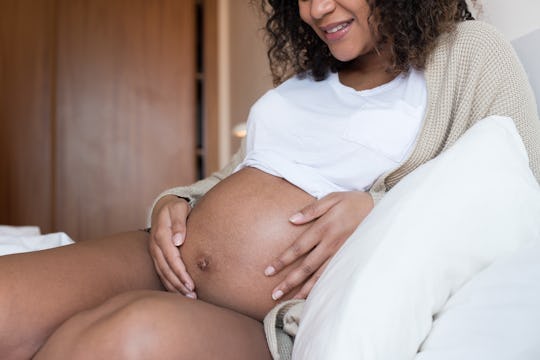 jolopes/Fotolia
What If Labor Doesn't Start? Don't Worry — You Can't Be Pregnant Forever
I think every woman who has ever been pregnant panics at the thought of being pregnant forever. Those nine months can seem to drag by, especially if you pass your due date. Every minute past that date is now 18 years long and, oh my God, you're really starting to freak out. Has anyone ever been pregnant forever? Are you going to go to preschool so your 4-year-old can hear what's going on through the womb? What if labor doesn't start?
OK, deep breaths. Trust me, you aren't going to be pregnant forever. According to the South Shore Medical Center, if labor doesn't start on its own, you may have to be induced depending on your situation. If your pregnancy is healthy and you're just a day or two past your due date, there's probably not much to worry about. Fit Pregnancy noted that due dates are estimates anyway and that your doctor will have their own policy about inducing if you miss a due date — some may let you go a week past your due date and others may give you two weeks.
March of Dimes, which advocates against inducing too early, noted that if labor isn't starting, your doctor will make decisions based on your current health. For example, if your blood pressure is high, your doctor might want to induce you to keep you and baby healthy. If you're 42 weeks pregnant, March of Dimes noted that your placenta could stop working well enough to keep your baby healthy, making it necessary for you to be induced. Other situations that are worthy of an induction include your water breaking without contractions, your placenta separating from your uterus, an infection in your uterus, health problems like diabetes, and if your baby has a growth problem.
But don't worry, just because labor isn't starting doesn't mean there's anything wrong with you, your baby, or your pregnancy. Your due date may have been extremely off, your baby may not be ready, or your body just needs a little extra help. According to the American Pregnancy Association, you can be induced through medications, like prostaglandin or oxytocin, to kick your body into labor, but you could also have your water broken by your doctor or be induced naturally, like with nipple stimulation.
If labor doesn't start, the Mayo Clinic noted that your doctor will look at your health, your baby's health, and all of the other factors that can determine if you are eligible for induction or not. Your doctor wants to steer clear of a premature birth, so they won't intervene unless it's absolutely necessary. If you think your doctor is pushing you to be induced when you shouldn't be, seek another opinion.
In the meantime, if labor doesn't start, you can try a few things to get the party started. There's no guarantee that they will work and Fit Pregnancy noted that you should wait until you're at least 39 weeks pregnant before attempting any, but nipple stimulation, sex, exercise, and even a plate of your favorite spicy food may get you on the right track.