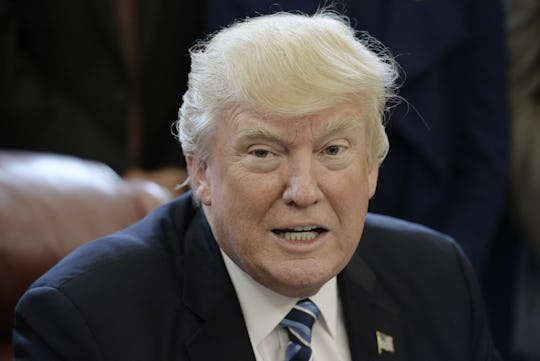 Pool/Getty Images News/Getty Images
Trump Says U.S. & North Korea Could Have "Major Conflict"
The Trump administration has made no secret of its intention to take a strong approach to North Korea, and on Thursday, President Donald Trump told Reuters that the United States "could end up having a major, major conflict," with the country if diplomatic efforts don't yield satisfactory results. That's an important statement to be sure, but what is a "major conflict," and what might one with North Korea look like? According to Reuters, a day before Trump made his comments, his administration declared the communist nation "an urgent national security threat and top foreign policy priority." And while a military strike against North Korea certainly wouldn't be the United States' first option, Reuters noted that the administration has sent "an aircraft carrier and a nuclear-powered submarine to the region," likely as a way to show that Trump is serious about not being afraid to back down.
As with previous administrations, Trump said he intends to focus primarily on using economic and diplomatic pressure to encourage North Korea to back down from its increasingly hostile position. But the president also indicated that he expects cooperation with China — a North Korean ally — to be part of that deal, and that the Chinese government would have to push back against North Korea's nuclear program, too.
Earlier this month, Trump met with Chinese President Xi Jinping at his Florida estate, Mar-a-Lago, according to CNBC, and officials on both sides praised the meeting as a success. The meeting certainly seems to have buoyed Trump's optimism about Xi's potential role in assisting in North Korean relations: according to ABC News, the president said he felt the Chinese leader "is trying very hard," and that he thought he was well-intentioned. Trump said,
He certainly doesn't want to see turmoil and death. He doesn't want to see it. He is a good man. He is a very good man and I got to know him very well. With that being said, he loves China and he loves the people of China. I know he would like to be able to do something, perhaps it's possible that he can't.
Trump's comments about Xi were actually the latest in a series of compliments he has given to the Chinese president. According to CNBC, Trump said earlier this month that the two were forming an "outstanding" relationship, and that "goodwill and friendship" were formed during their stateside meeting. And the feeling appeared to be mutual — Chinese state media quoted Xi as saying that he felt China has "a thousand reasons to get China-U.S. relations right, and not one reason to spoil the China-U.S. relationship," according to CNBC, suggesting that the president was open to working with Trump to meet their respective foreign policy goals.
In fact, perhaps due to Trump's seemingly-warm feelings about Xi, the president even appeared to take an uncharacteristically understanding view of North Korean dictator Kim Jong Un. When asked by Reuters if he considered Kim to be rational — a fundamental question upon which much of the United States' foreign policy is based — Trump said he had "no opinion" on it, and suggested that he thought Kim's motivation might be more complex:
He's 27 years old. His father dies, took over a regime. So say what you want but that is not easy, especially at that age. I'm not giving him credit or not giving him credit, I'm just saying that's a very hard thing to do. As to whether or not he's rational, I have no opinion on it. I hope he's rational.
Of course, despite Trump's talk of cooperation and diplomacy, the fact that he hasn't at all downplayed his very real consideration of military action against North Korea means that discord between the three nations could result in a total change of direction. And according to Reuters, direct military action against North Korea by the United States could result in a major retaliation attempt. According to The Sun, North Korea's state-run news agency KCNA denounced Friday what it considers to be the United States "aggressive" position:
It is just the [United States] which has pushed the situation on the peninsula to the brink of nuclear war by staging the largest-ever aggressive joint military drills against the DPRK for the past two months after bringing all sorts of nuclear strategic assets to South Korea.
Noting that "no one in the world welcomes a gangster blackmailing the owner with a dagger," the KCNA also argued that North Korea had "an entirely legitimate right to self-defence," and that "the DPRK was so right when it made a crucial decision to strengthen its nuclear force in quality and quantity."
The danger of North Korean retaliation, according to Reuters, is that it could mean major "huge casualties" in South Korea, Japan, and for the members of the United States military stationed in both countries. At the same time, The Guardian noted that Kim's regime could be wiped out if it were to launch a nuclear attack against South Korea, given that Seoul would almost certainly respond with a similar attack. And while Pyongyang would presumably be quite capable of a non-nuclear attack against South Korea, it's also possible that "the quality of its gunners and munitions is dubious." In either case though, even if the outcome were to be a United States win, any kind of military attack between the two nations and their allies would likely result in a disastrous scenario.
As Brooking Institute senior fellow Jonathan Pollack explained to Vox, a United States attack on North Korea would likely cause "a very big war." Pollack, who specializes in U.S. strategy in Asia and the Pacific, explained that, Pyongyang's military effort is still sizeable, and that "given the kinds of capability that North Korea demonstrably has — hundreds of missiles, thousands of artillery pieces, nuclear weapons, special forces, you name it," any military effort initiated by the United States would have to be significant. In which case, millions of innocent people in multiple countries would be at risk for devastating attacks.
Although Trump has made it clear that a military strike against North Korea is possible, it certainly wouldn't be in the best interest of any country — especially if it's possible to leverage other diplomatic efforts. Right now it doesn't appear that the "major conflict" Trump alluded to is necessarily on the horizon directly, and it sounds as though he sounds optimistic to the possibility of negotiation. But the fact that it's still an option is very concerning, particularly given the consequences that could result.