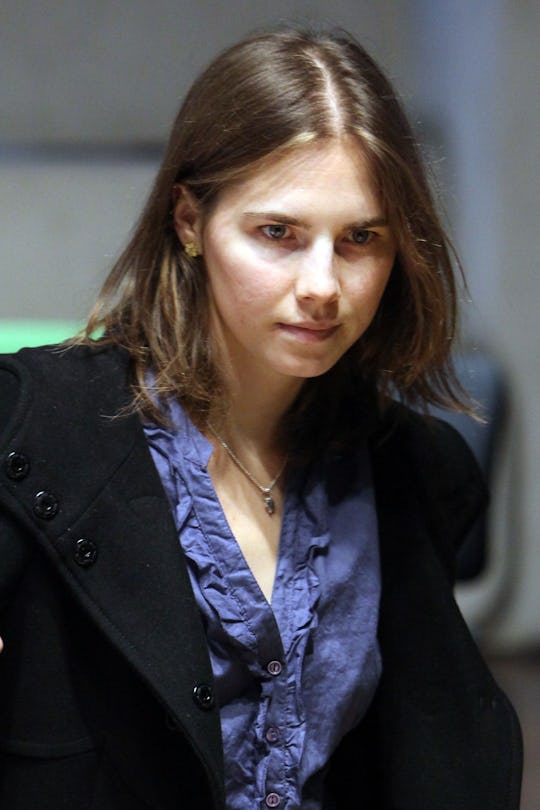 Franco Origlia/Getty Images News/Getty Images
What Is Amanda Knox's Net Worth? The Author Has Had To Pay Back A Lot In Legal Fees
When British student Meredith Kercher was found murdered in 2007 in the Perugia, Italy apartment she shared with then-student Amanda Knox and two others, fingers were almost immediately pointed at both Knox and her boyfriend at the time, Raffaele Sollecito. The pair, with suspect Rudy Guede, were found guilty and Knox and Sollecito spent four years in prison before they were both acquitted of the crime. After they were released, the two were re-tried and found guilty, again, only for that convictio to be overturned, as well. With this type of story, Knox went on numerous news outlets, she even wrote a book. So you might be wondering what Amanda Knox's net worth is from all of this?
In the years that followed both the 2007 murder and Knox's release from prison in 2011 (and her second trial), Knox was featured on news specials like Dateline NBC and CNN Presents. So you would have to think that telling her story so many times would warrant some kind of compensation for the former college student. Well, you'd think wrong.
As of 2016, Knox's net worth is probably very humble, despite having penned a memoir that was wrote, in detail, about her time in the Italian prison system and all of the events leading up to and following the murder of her former roommate, Kercher. Even though Knox was given a reported $4 million advance on her book deal, much of that likely went to repay her parents for the exorbitant amount of money they spent on her attorneys throughout her trial and in their efforts to have her freed.
In 2011, Today wrote about the amount of money Knox and her family had to spend in order to cover all of her legal bills. The site writes, "Knox's 74-year-old grandmother, Elisabeth Huff, took out a $250,000 loan to contribute to legal bills that are estimated to far exceed $1 million." That's a lot of money, and while a book deal is nice, you have to realize that this was not a cheap trial for Knox and her family, either.
In addition to writing a book (and holding a steady job as a writer, now), Knox has given quite a few interviews since being released from jail. Of course nothing can be confirmed, but one would hope that interviews of this magnitude would earn some type of a paycheck. With that said, Knox revealed on Good Morning America while speaking on the upcoming Netflix documentary, that she was not paid for her participation in the Sept. 30 release.
Knox's first interview after being released from prison was with Diane Sawyer on the ABC 20/20 special, Murder Mystery: Amanda Knox Speaks. Shortly after her sentencing was overturned and she was acquitted, Knox returned home with her family and appeared on Good Morning America to talk about her ordeal. Then, in 2014, Knox gave another important interview on Good Morning America after the news broke about the Italian courts wanting to try Knox for Kercher's murder yet again and have her back in Italy for the new trial.
Almost 10 years after the brutal murder of 20-year-old Kercher and Knox's first murder conviction that would later be overturned, Netflix is releasing a documentary, titled simply Amanda Knox. The documentary features Knox against a gray backdrop, aiding in telling her story again and going through the horrific events in Italy. The documentary is set to be available on Netflix on Sept. 30, giving Knox another outlet in which to speak open and freely and give the public an opportunity to examine the case for themselves.