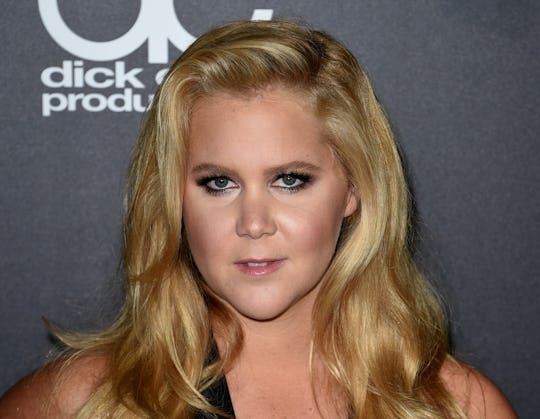 What Is Amy Schumer Wearing At The 2016 Golden Globes? Hint: It's GORGEOUS
By all accounts, it's been an amazing year for Amy Schumer. Her unabashedly feminist and unabashedly hilarious film, Trainwreck, charmed critics and audiences alike. It was nominated for a Golden Globe for Best Motion Picture - Comedy or Musical, and Schumer got a Best Actress nod for her role in it. Oh, and she became BFFs with Jennifer Lawrence. So as the red carpet got going leading up to the awards show Sunday night, the question on every Trainwreck fan's mind was what is Amy Schumer's dress at the 2016 Golden Globes?
When you think of Amy Schumer, her tendency to play up her flaws (as fodder for all manner of self-deprecating but also really, really liberating jokes) probably comes to mind, but an article by The New York Times' Bee Schapiro pointed out this month, Schumer is "Actually Kind of a Fashion Plate," with a red carpet look that is "sleek, sexy and soignée" — so, not trainwreck-esque at all. She also reportedly pays for many of her red carpet dresses, rather than borrowing, which isn't so common in Hollywood. Her stylist told the times that Schumer's not willing to "settle" for what's offered by designers. You go, Amy Schumer.
Of course, the big joke-slash-rumor ahead of the 2016 Globes was that Jennifer Lawrence and Amy Schumer would wear matching dresses since they are nominated in the same category. (Lawrence got a nod for the title role in Joy.) According to Entertainment Weekly, JLaw pointed out that said matching would involve Schumer also wearing Dior (Lawrence has a contract with the fashion house).
As it turned out, Schumer isn't wearing Dior, which means she and JLaw aren't in matching outfits. However, her look at the 2016 Globes was definitely in the "sleek, sexy, and soignée" department. Schumer arrived in a black and white satin-y Atelier Prabal Gurung gown with a white, an off-the shoulder neckline, ballgown silhouette, and black skirt with white facing on the hem. With minimal jewelry and half-up, half-down hair, it was just, well, perfect.
I think we can agree that she looked amazing, no?
Image: MARK RALSTON/AFP/Getty Images