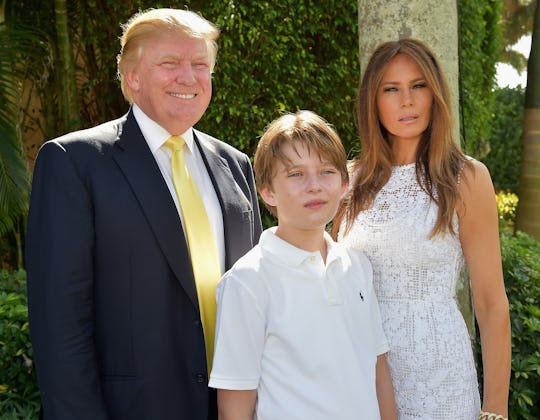 Gustavo Caballero/Getty Images Entertainment/Getty Images
What Is Barron Trump's Net Worth? His Allowance Doesn't Appear To Be Very High
Republican Presidential candidate and New York businessman Donald Trump has more than one ace in the hole when he's out on the campaign trail. There's his beautiful wife Melania, an ex-model and jewelry designer; his daughter Ivanka, a business powerhouse in her own right; his sons Eric and Donald Jr. who, I'm happy to report, have made wiser hair choices than their father. But the real star of the show these days seems to be his 10-year-old son, Barron. The little charmer has had a humanizing effect on The Donald's public image, and people are wondering what little Barron Trump's net worth might be? I mean, what does this kid's allowance look like?
Young Barron was born in March of 2006 to Donald and Melania. He is the youngest of Trump's five children. Eric, Donald Jr., and Ivanka are Trump's children with first wife Ivana Trump; Tiffany is his daughter with second wife Marla Maples. So here's the bad news for young Barron: as of this moment, his net worth is nothing, on account of he's only 10-years-old, and can't get a job yet. He still has to rely on mom and dad for his candy and video game needs (if that's even something he does; or is he more of the suit and tie variety?). But that doesn't mean he's going to have to go begging on the streets any time soon.
While the rest of Trump's children are expected to speak on their father's behalf on the campaign trail, Barron will stay mostly on the sidelines. Although don't mistake Barron's reticence for any sort of political snub against his father. In an interview with People magazine, mom Melania said Barron truly looks up to dear old dad.
He is a very strong-minded, very special, smart boy. He is independent and opinionated and knows exactly what he wants. Sometimes I call him little Donald. He is a mixture of us in looks, but his personality is why I call him little Donald.
Considering Trump's public persona (you know, anti-women, pro-torture, that sort of touchy-feel-y stuff), it's surprising to see that his children are all quite relaxed and accomplished. And Barron is no exception. Sure, he might not have been given enough money to buy his own castle or anything yet, but he does have one thing to keep him grounded: mom Melania.
When her husband began his political campaign, the devoted mom did not join him and instead chose to stay home with her son. In the 2015 People interview At Home With The Trumps, Melania Trump said:
Barron is 9 years old. He needs somebody as a parent there, so I am with him all the time. As you know my husband is traveling all the time.
Who needs money when you've got a mom like that, right?