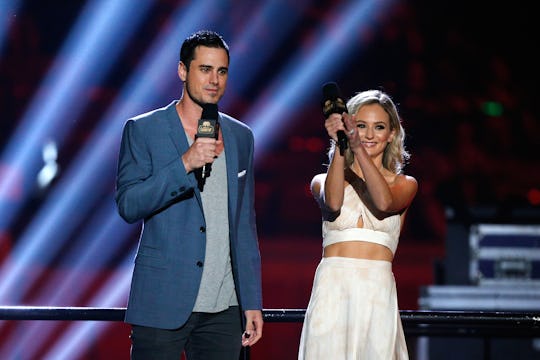 Bob Levey/Getty Images Entertainment/Getty Images
What Is Ben Higgins' Job? The Former 'Bachelor' Had His Eye On Politics
We learned on Ben Higgins' season of The Bachelor that, although he owned a house in Denver and had a steady job working as a business analyst in tech sales, the one thing missing from his life was love. A couple dozen dates later, and Ben finally found it with flight attendant Lauren Bushnell. She left her job and life in LA behind to move in with Ben after the season wrapped, and we'll see her contemplating her life's next career moves on their Freeform spin-off series Ben & Lauren: Happily Ever After?. But what is Ben's job? Well, he's still employed at his old firm Talisys, although it looks like he's been promoted since his time on The Bachelor to Account Manager.
Ben has been open in the past about how supportive and flexible his company was during his hectic Bachelor shooting and promotion schedule. It seems like they didn't mind the publicity of having a dreamy Bachelor working for them, either. But in addition to his tech sales job, Ben briefly considered running for office in the Colorado House of Representatives last summer, before withdrawing his bid one day after announcing.
In May of 2016, it was reported that the republican candidate for the fourth congressional district would step aside to allow Ben to run. The next month, Ben sent an email to Colorado's GOP leadership, announcing the debut of his Freeform show and hyping the platform it would give him to spread his political message. A month later, he filed the paperwork for his campaign, and the next day, withdrew his candidacy with a statement saying:
"I regret that I must withdraw my candidacy. Despite my best efforts to pursue this opportunity in good faith, I recently received information that has made such a pursuit unworkable. Due to unforeseen circumstances, I will not be able to move forward as a candidate. I find solace in knowing that our intentions and actions have been fair and sincere. I entered into this endeavor wanting to bring positive change to my community, and it is with that same spirit that I will move forward, albeit on a different path."
There was speculation at the time that ABC allegedly pushed Ben out of the race by threatening legal action and/or refusing to pay him his Bachelor earnings and sponsor his wedding. Supposedly, ABC didn't want to taint the franchise with politics, which may have been controversial and alienated part of its fanbase.
But Ben claims that, even though his Congressional campaign is over, he hasn't ruled politics out of his future entirely. He told Entertainment Tonight in an interview:
"I am so excited to pursue that in the future. I think where Lauren and I's life is right now, it was best for us to kind of switch gears and kind of make more appropriate decisions for our life at this time. But I am excited to, in the future, run for office or to at least pursue something or be a part of that. But who knows when that will be. We're young — we have some time."
Ben definitely seems committed to community improvement, but it'll probably be easier to get taken seriously as a public servant when he's not a reality TV star. At least, for this election cycle.