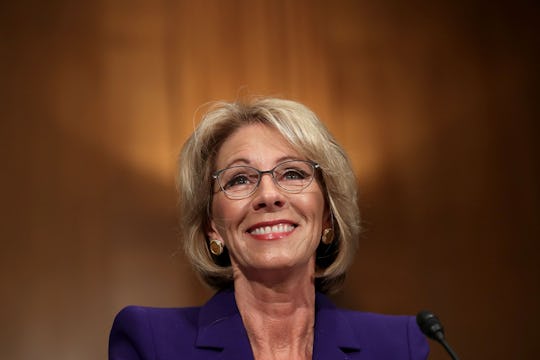 Chip Somodevilla/Getty Images News/Getty Images
Betsy DeVos' Controversial Stance On LGBTQ Rights
Betsy DeVos has lead a charmed life. She is a billionaire philanthropist who has built a reputation in her home state of Michigan as an ardent champion of change in the education system. Most recently, she was also tapped by President-elect Donald Trump to be his incoming secretary of Education. But what sort of "change" is DeVos planning to bring to the school systems of America? Some critics are wondering what exactly DeVos' stance on LGBTQ rights might be, particularly after learning she has allegedly supported controversial conversion therapy in the past, a charge which she denied during her Senate hearing on Tuesday.
According to Politico, the DeVos family has donated millions of dollars to "Focus on the Family," a Christian organization that promotes using "conversion therapy" to change someone's natural sexual orientation. The Focus on the Family website refers to conversion therapy as "Sexual Orientation Change Efforts (SOCE)" and defines this therapy as:
... a broad term that deals with any kind of help from a licensed mental-health professional for those with unwanted homosexuality. This is counseling, or talk therapy, to assist someone with unwanted homosexuality —whether it's behavior, attractions or identity — to live according to their faith and values.
DeVos was questioned by Sen. Al Franken during her Senate confirmation hearing about her opinions on conversion therapy, and she maintained that she had never believed in such a thing.
She responded to Sen. Franken's questions by saying:
I fully embrace equality, and I believe in the innate value of every single human being, and that all students, no matter their age, should be able to attend a school and feel safe, and be free of discrimination.
Unfortunately for DeVos, her past donations speak for themselves. Before the confirmation hearings, DeVos (who is a devout Christian) declined to comment as to her stance on LGBTQ rights. And yet, her family has been the primary donors to some seriously anti-LGBTQ organizations — more specifically, upwards of $200 million in total to right-wing, Christian organizations. DeVos and her husband Dick DeVos have also supported the Acton Institute, another Christian conservative group that supports anti-LGBTQ policies. Romper has reached out to Devos' reps within the official transition team for comment on her stances and past donations and is awaiting a response.
Many critics are concerned that DeVos will actively attempt to dismantle all of the progress for LGBTQ students that has been made under the Obama administration, if she is approved as Trump's secretary of Education. Chad Griffin, president of the Human Rights Campaign, told Politico:
The DeVos family has a long, well-documented history of funding organizations dedicated to undermining and restricting the rights of LGBTQ people.
While Betsy DeVos has yet to confirm any reported anti-LGBTQ stances, her history of donating massive swathes of money to organizations that support anti-gay rhetoric speaks volumes.