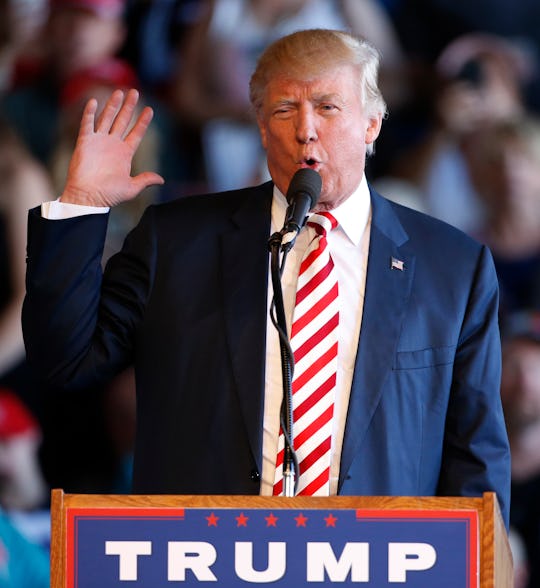 George Frey/Getty Images News/Getty Images
What Is #BigLeagueTruth? It's Donald Trump's Newest Social Media Ploy
Republican presidential nominee Donald Trump has been accused more than once of stretching the truth. But more than that, he is the first one to criticize his opponent, Democratic presidential nominee Hillary Clinton, calling her "Crooked Hillary" in an effort to identify her as a liar. Trump relies on his supporters to spread this allegation, turning to Twitter to establish the hashtag #BigLeagueTruth. But what is #BigLeagueTruth and is it a social media campaign worth paying attention to?
According to the Trump website, #BigLeagueTruth is a "team" Trump has established for his supporters to help him combat what he calls, "the rigged MSM (mainstream media)." Using their emails, Twitter, Facebook, and other social media accounts, Trump supporters use the hashtag #BigLeagueTruth to share messages that the Trump campaign sends them. There are more than enough examples on social media to help you get the gist:
The Guardian noted that #BigLeagueTruth is not just a hashtag to spread Trump's message, it was also meant to be used during the second presidential debate to "fact-check" Clinton's statements. For whatever reason, the emails sent out by the Trump/Pence campaign to be shared by Trump supporters in the name of #BigLeagueTruth instead focused on Clinton's emails and Trump's normal rhetoric, such as "Make America great again."
You don't really need a hashtag from Trump's supporters to hear what Trump thinks about Clinton's emails. Fox News reported that during the second presidential debate, Trump accused Clinton again of lying about the email scandal that has plagued her campaign for the better part of it, and threatened her with prison if he won the election.
In fact, this social media ploy of the Trump campaign is as far from fact-checking as you can get. #BigLeagueTruth did not prove Hillary was a liar during the second presidential debate, but The Washington Post did its own fact-checking of the debate and found that Trump spewed lie after lie with his false claims and allegations. Clinton had a few truth mishaps as well, but any fact-checking done of her statements was not proved by #BigLeagueTruth.
If you haven't seen a lot of #BigLeagueTruth hashtags, don't worry. Truly, they are just phrases that have been repeated by Trump more than once — you've most likely heard them before. If you want to fact-check the final presidential debate, CBS News has a live fact-check you can follow while watching Trump and Clinton battle it out for the last time.