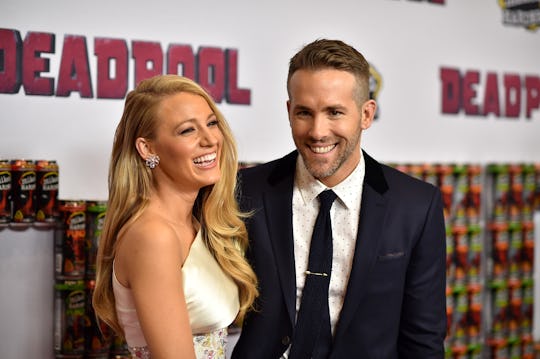 Dimitrios Kambouris/Getty Images Entertainment/Getty Images
What Is Blake Lively & Ryan Reynolds' Second Child Named? You Can Guess All You Want
Ryan Reynolds and Blake Lively are one of those couples that are just too cute for words (and so sometimes you have to roll your eyes just teeny tiny bit). Like the fact that no one knows the gender or name of Blake Lively and Ryan Reynolds' second child — it's just so sneaky and perfect. Well, they were keeping the gender a secret but then Reynolds accidentally let it slip on Conan O'Brien that he was living in a house with "a lot of estrogen." He added, "It feels like an American Girl Doll just took a s--t on my life. I'll pour some cereal in the morning and there's like a tiny shoe in there. That's a choking hazard for me!" Immediately afterwards, he knew he had done wrong.
The next day, Lively posted a picture on Instagram showing how he made up for the mistake — with a Levain chocolate chip cookie from New York City, which is, quite possibly, the best gift in the entire world.
So we have a good idea that the couple had another girl, but we don't know her name yet. Reynolds and Lively aren't planning on "revealing" anything about their newborn anytime soon, either. Reynolds said on Today, "I just don't feel the need to publish it. It's a normal feeling that most people might have."
That's pretty darn reasonable. Reynolds added on Today, "The name stuff, I don't feel entitled to do that without my significant other sitting here and having some say in it." He added that his kids didn't have any say in the life they were born into "and they can quickly get swept up in that world." But let's all just take a bet that it's probably a great name. The newest babe joins sister, James, who is almost two years old.
According to Glamour, the two chose the traditionally "male" name after Reynolds' father, who died just before their first daughter was born. "In the spectrum of weird celebrity baby names, I feel like we're not really breaking any new ground here. I didn't call her Summer Squash Meadowlark or something," he said of the haters. Not that, of course, there's anything wrong with Summer Squash Meadowlark in the realm of crazy baby names (surely, someone out there right this minute is thinking of calling their baby that now).
So Reynolds and Lively are staying mum and probably having a good laugh about how curious everyone is about the gender and name of their baby. They're right to keep to themselves since we don't actually know them. Maybe it's really none of anyone's business. Though next time Reynolds messes up, I think we should all go out for chocolate chip cookies. For solidarity.