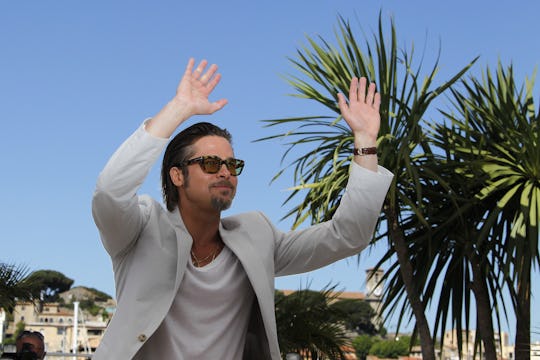 FRANCOIS GUILLOT/AFP/Getty Images
What Is Brad Pitt's Net Worth? The Actor Has Done Well Over The Years
No one wants to be the bearer of bad news, but this has to be shared. After months of making tabloid headlines, Brad Pitt and Angelina Jolie are reportedly divorcing, and with the split comes a million questions about the couple and the stars as individuals. Why are they getting a divorce? Who will have custody of the kids? What is Brad Pitt's net worth? Because, let's be honest, money is a huge topic when it comes to a power couple's split.
TMZ first broke the news of Pitt and Jolie's divorce Tuesday morning, noting that Jolie filed for divorce from Pitt after two years later, citing irreconcilable differences. The site also noted that Jolie would be seeking sole physical custody of the couple's six children — Maddox, Pax, Zahara, Shiloh, Knox, and Vivienne — and asking the judge allow Pitt visitation.
In a statement to People, Pitt spoke of the divorce with deep sadness:
"I am very saddened by this, but what matters most now is the well being of our kids. I kindly ask the press to give them the space they deserve during this challenging time."
Romper reached out to publicists and attorneys for both Jolie and Pitt, but have yet to hear back.
This split comes as a shock to anyone who has followed the couple's worldwind romance. After meeting on the set of Mr. and Mrs. Smith in 2003, CNN noted that rumors of a Jolie and Pitt relationship began circulating in 2004 following his split from actress Jennifer Anniston. In 2006, the couple welcomed their first child Shilo Nouvel. Though many thought the couple would marry soon after Shilo's birth, there was one thing supposedly standing in their way. In a 2006 article for Esquire, Pitt wrote that he and Angelina would, "consider tying the knot when everyone else in the country who wants to be married is legally able." Cut to August 2014, when Time reported that Pitt and Jolie got married despite gay marriage not yet being legal in the United States. (But that's a story for another time.)
The fate of the couple and their children is still unclear (though, of course, one hopes for the best), as is all the money the Hollywood power couple has pulled in over the years. It's understandable to wonder what Pitt and Jolie's net worths are, as it could play a huge part in the proceedings. (Hey, they're a couple just like anyone else, and money matters.)
According to Celebrity Net Worth, Pitt is worth an estimated $240 million as of 2016. This shouldn't come as a total shock, as Pitt has been in the industry for more than 50 years. Granted, the first 30 years consisted of small roles in TV series like A Different World, Dallas, and Growing Pains. But hey, you gotta start somewhere. Pitt's big break came in 1991 with Thelma and Louise, and he hasn't slowed down since. He continued to take on starring roles in Se7en, Twelve Monkeys, and Interview With A Vampire, which grossed $233 million according to Forbes.
The money continued to come in and only multiplied when Pitt began directing and producing films, even opening his own production company Plan B Entertainment Inc. In 2016 alone, Pitt earned $3.15 million thanks to his acting and directing roles in both War Machine and The Big Short, which took home an Oscar.
Clearly Pitt is well-off, and Jolie will come away with a lot if the couple ditched the traditional Hollywood prenup. But even if they did, the actress will be just fine seeing as she's a money-maker in her own right. According to Time Money, Jolie's net worth is a cool $160 million. So yeah, I say the two will be just fine.