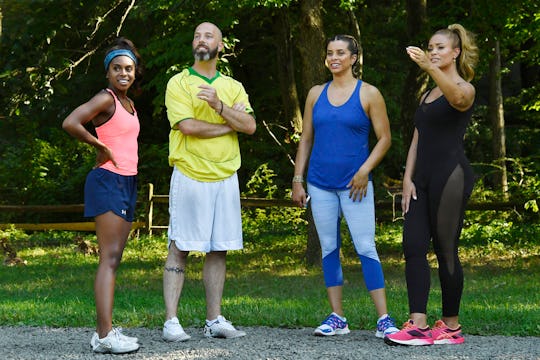 Candiace Dillard Has Done Well For Herself Prior To Making Her 'RHOP' Debut
The Real Housewives of Potomac is getting a anew cast member this season and judging from the promo, she's going to seriously shake things up. If she has time, of course. Candiace runs multiple companies and is planning her wedding, so she keeps busy. Knowing that she might be the breadwinner in her partnership, it had me wondering: What is Candiace Dillard's net worth? It certainly has be something substantial for her to be on the show.
Candiace went to Howard University and worked in the Obama White House just after college as a staffer. She also worked on his 2012 re-election campaign. But on the side she was dabbling in pageantry, winning Miss United States and placing really high in a load of others, such as the Sunburst, National American Miss, National Miss American Coed, Georgia Miss American Coed, Miss Maryland USA, and Miss District of Columbia USA,, according to her official Bravo bio.
The 31-year-old then started her own pageant consulting company for young women, called Candiace Dillard Pageant Consulting. She also co-founded Prima Hair Collection and is the co-owner of Chateau Salon Suites. In 2009, she also founded a mentorship and women's empowerment foundation called My Sister's Keeper. So there are a lot of income streams. When she marries her fiancé, restaurateur Chris Bassett, she'll be worth even more, even though the food industry can be risky business.
However, even with all of her businesses and pageantry, she's not big enough of a name yet it seems for the usual celebrity gossip and net worth sites to have her on their radar, so we don't have a reliable (or reliable-ish) estimate of how much money she has in the bank. Her soon-to-be husband is the owner of Blackwall Hitch, which is a pretty well-reviewed restaurant in the D.C. area (there are three locations), so they have to be doing pretty well for themselves. There's a french fry flight on the menu, so you know it will never go out of business.
Anyway, we don't know how much Candiace is worth exactly, but it will most certainly come up during this season, seeing how this group of women is always up in each others business. Literally. Money is often a topic of discussion, whether its because Robin and Juan getting their finances sorted out, Ashley and Michael's restaurant not doing so well (the Australian cuisine is apparently a hard sell) or helping out her mother financially, and of course, Karen and Raymond Huger's everything.
Last season, many of the women called Karen out because they learned that her house was for sale and that she and her hubby were downsizing to another place in Great Falls. During the reunion, many of the women seemed to think that Karen was lying about her finances and might be in trouble. That topic is broached again this season, judging by the trailer. In it, Gizelle says, "We know you're hiding everything Karen," implying the Huger's might not even be living in that still-huge house in Great Falls. She responds haughtily that she's "debt free and loaded."
Dillard's tagline is "Life is a pageant and I'm in it to win it," which is pretty perfect as far as Real Housewives taglines go. It also shows that she means business, so if the women decide to take a break from picking on Karen's financials and teasing Robin about being with Juan, she'll at the very least be able to stick to up for herself and her business ventures.
Between what we can see in the promo and everything we know about Candiace so far, she'll definitely be getting peoples' attention. And then all of her secrets, like her net worth, will be a lot easier to find out.
Check out Romper's new video series, Romper's Doula Diaries:
Watch full episodes of Romper's Doula Diaries on Facebook Watch.