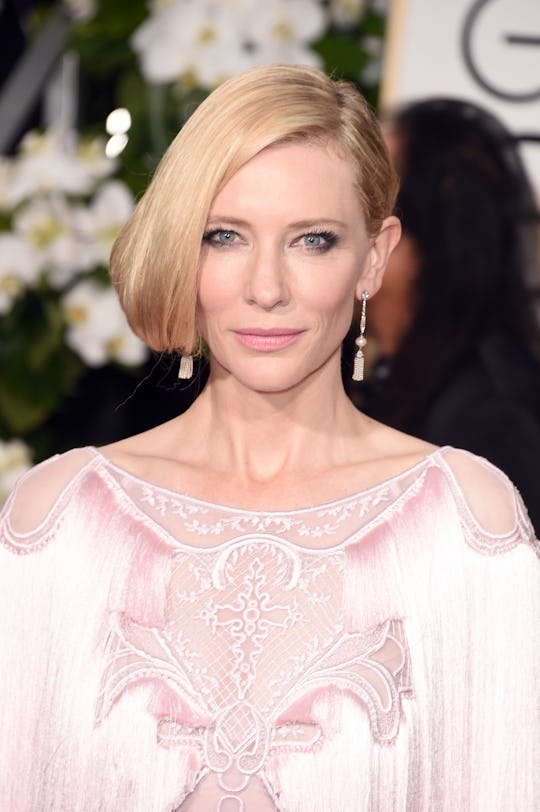 What Is Cate Blanchett Wearing At The 2016 Golden Globes? It's Stunning, Obviously
If you're a fan of the ever-stunning Cate Blanchett, you know the 46-year-old actress' red carpet style is almost always flawless. So when you look at Cate Blanchett's dress at the Golden Globes this year, the perfection is no surprise.
Blanchett tends to favor lace, ladylike silhouettes, and embellished overlays — though as Harper's Bazaar notes, she also takes risks. She's game for a romper or the occasional deep V-neck. At the 2015 Oscars, she went with a simple black gown that made her look that much more statuesque (if that's even possible), then topped it off with a chunky statement necklace that screamed fun and elegance a the same time.
This year she is nominated for the title role in Carol, in which she plays a suburban New Jersey housewife who begins a relationship with a department store shopgirl (Rooney Mara, also nominated) in the 1950s. According to Entertainment Tonight, it was rumored that Blanchett would wear Givenchy at the Globes.
It turned out that the rumor was true. Blanchett arrived in a stunning, 1902s-inspired white Givenchy couture gown. The sheer bodice and low back are textbook Blanchett, while the flutter sleeves and fringe leant texture and fun to the look. She looks pretty phenomenal:
To fully put the nominee's 2016 Golden Globes look in context, here are a few of Blanchett's most memorable past looks:
2014 Golden Globes
Lace + overlay + ladylike and a little bit Victorian = perfection.
2015 Oscars
The updo, the simple, backless gown, that necklace. Blanchett never over-accessorizes.
2014 Oscars
Overlay again. If this gown didn't scream "in it to win it," what does?
Image: Jason Merritt, Kevin Winter/Getty Images Entertainment