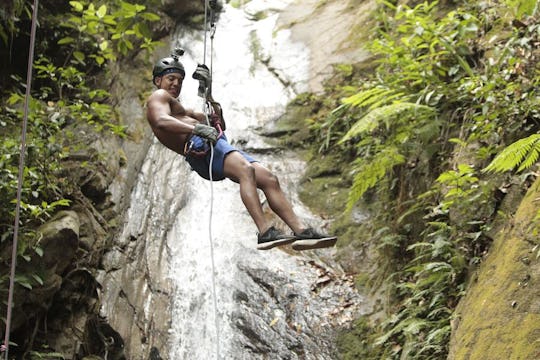 Rick Rowell/ABC
What Is Christian Bishop's Net Worth? The 'Bachelor In Paradise' Star Is Keeping Busy
One of the many things that makes Bachelor in Paradise so much fun to watch, aside from the fact that it takes itself far less seriously than The Bachelor or The Bachelorette, is that new bachelors and bachelorettes are always arriving at the resort. This means that romances are constantly being shaken up, and we get an opportunity to reconnect with some of those contestants we might otherwise have forgotten all about. Christian, for example, just recently arrived in Paradise, and I had almost forgotten what an adorable charmer he is. He's also unafraid to admit that he has a real job (former professional/competitive anything is not a real job, guys), and generally seems to have his life together. What's Christian Bishop's net worth?
According to his LinkedIn, Christian is an Enterprise Account Director with a Communications company called Level 3, where he manages sales. According to Glassdoor, Account Directors at Level 3 earn a little over $100,000 per year, which is an extremely respectable salary. And this isn't even Christian's only source of income. Christian is also a spokesmodel for No Limit Supplements and seems to be working on a career as a fitness trainer. Not to mention the income he's presumably earning from his Bachelor stints.
As the guardian for his two younger brothers, Christian has a lot of responsibility on those well-sculpted shoulders of his and it looks like, at least career-wise, he's definitely stepping up to the plate. Typical spokesmodels and personal trainers do not earn the kind of big bucks Christian is earning from his Account Director position. The median salary for these positions is around $30,000-$50,000 per year. This is, of course, until said spokesmodel or trainer achieves Jillian Michaels level status. With Christian's increased visibility through The Bachelorette and Bachelor in Paradise, he could be gunning to take over the fitness world entirely. Maybe he'll create his own fitness craze à la Shaun T and his Insanity videos. At least according to his Instagram, this is where Christian's real passion lies.
While it looks like Christian is pulling in quite a tidy income at the moment, it's incredibly admirable of him to continue pursuing his dreams, even if they might not pay as well at the moment. Maybe Christian is Bachelor Nation's low-key MVP.