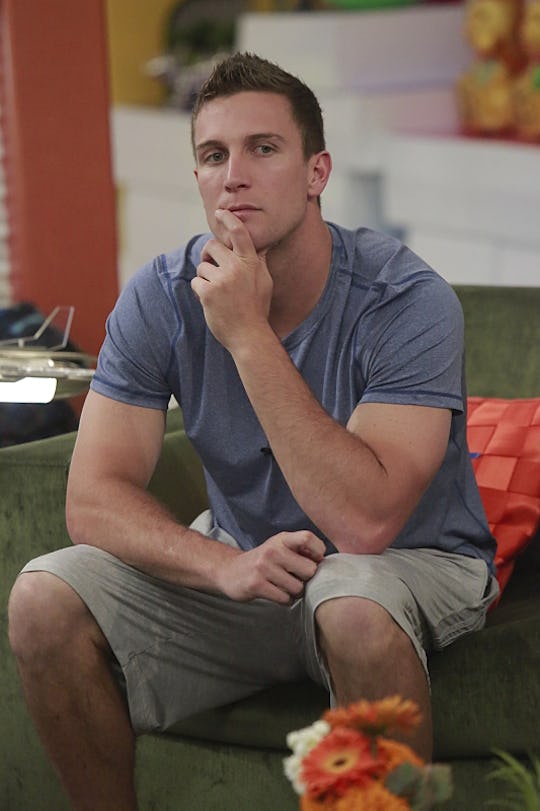 Bill Inoshita/CBS
What Is Corey's Job Outside Of 'Big Brother 18'? He's More Than A Baseball Coach
When you watch a reality TV show like Big Brother, where we get to see literally everything they do at any given time of day (thanks to the live feed cameras on the houseguests 24/7), you start to wonder what their lives are like outside of the compound. Like when Corey absentmindedly played with a hand ball with an expert flick of the wrist before the "perfect shot" competition. So what is Corey's job outside of Big Brother? The way he played around with the makeshift baseball made it clear that he has a past in the sport, but to what extent? Corey is a baseball coach to the Dallas Mustangs, which is basically a little league team, but according to Corey's LinkedIn description, it's also "one of the top select baseball organizations in the nation." Fancy.
Corey also played baseball in college at Texas A&M University as a pitcher. In addition to Corey's career as a baseball coach, he has his feet in the doors of a few other ventures that are totally different from his sports endeavors. Which, let's be honest, is kind of surprising, given his laid back, go with the flow, blank stare type thing going on this season on Big Brother.
Corey also owns an app called Fan Connexion, which is described as a way for fans of any type of celebrity to connect to them. On the Big Brother live feeds, Corey may have made a shameless plug for himself when he mentioned the app, but judging by at least one review left by a fan, it worked. The app itself is available in the iTunes store for free.
"Fan Connexion is a social media mobile app and website that connects fans with their favorite celebrities while supporting a good cause through benefiting charity. Fans can choose from any type of celebrity from professional athletes, singers, actors, viners, and anyone else who has a fan base. Then they select how they want to interact with the chosen celebrity whether it be through video, picture, text format, or tweets!"
Corey is also the director of Healy Relocation in Dallas. The company specializes in helping celebrities or high-profile clients sell and find new real estate and then make their move easier as far as the big and important stuff like the shipment of their cars are concerned. You know, saving the world, one pro football player's luxury yacht at a time. The Healy Relocation website has several testimonials from professional athletes like Tony Romo, so maybe it's the real deal.
Obviously Corey's heart is in baseball, as he remains the manager and head coach of the Dallas Mustangs, but it's clear that there is a lot more to Corey's professional life outside of Big Brother than he lets on.